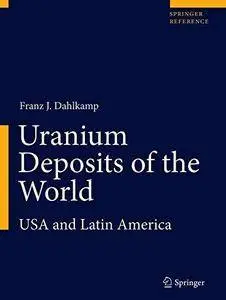 Uranium Deposits of the World: USA and Latin America By Franz J. Dahlkamp (eds.)
2010 | 520 Pages | ISBN: 3540785558 | PDF | 41 MB
Modern industrial society urgently needs alternatives to traditional carbon and petroleum-based energy sources. Oil and gas reserves are uncertain, and concentrated in politically unstable regions. Coal carries high environmental costs, both in its extraction from the earth, and its impact on air and climate. These circumstances have resulted in renewed attention to nuclear energy, long considered too expensive and too dangerous, for widespread use.Uranium Deposits of the World gathers and presents a massive collection of data on the location, quality and accessibility of uranium resources in nearly every region of the globe. Incorporating the latest findings, including much material that is newly available, this is the most comprehensive reference work yet produced on the topic. The coverage goes further, offering expert overviews and fine-grained analysis of the economic viability of ore deposits. This exhaustive, up-to-date reference is designed for practical use, and arranged by geographic region: Asia; USA and Latin America; Europe; and Australia-Oceania and Africa. Each region and country is introduced with an analytical overview, followed by a detailed geologically- and economically-relevant synopsis of its individual regions and ore fields. The data includes location and magnitude of uranium districts and deposits; principal features of uranium districts; and characteristics of selected deposits. Enriched throughout with many maps and charts, the description of districts and deposits includes sections on geology, alteration, mineralogy, shape and dimensions, ore controls or recognition criteria, and metallogenic aspects. A typological classification of uranium deposits is added to give an overview of principal criteria of deposit types and related nomenclature.Nuclear energy researchers, mining and energy developers, policy makers, regulators and planners will all find this work useful, informative and timely. Uranium Deposits of the World is available in a searchable online edition, as a four-volume print work, and as a combination of the two.