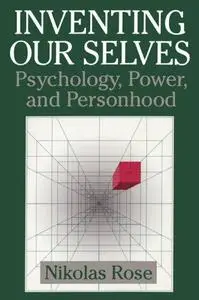 Inventing Our Selves: Psychology, Power, and Personhood By Nikolas Rose
1998 | 236 Pages | ISBN: 0521646073 | PDF | 17 MB
Inventing Our Selves proposes a radical new approach to the analysis of our current regime of the self, and the values of autonomy, identity, individuality, liberty and choice that animate it. It argues that psychology, psychiatry, psychotherapy and other "psy" disciplines have played a key role in "inventing our selves," changing the ways in which human beings understand and act upon themselves, and how they are acted upon by politicians, managers, doctors, therapists and a multitude of other authorities. These mutations are intrinsically linked to recent changes in ways of understanding and exercising political power, which have stressed the values of autonomy, personal responsibility and choice. The aim of this critical history is to diagnose and destabilize our contemporary "condition" of the self, to help us think differently about the kind of persons we are, or might become.