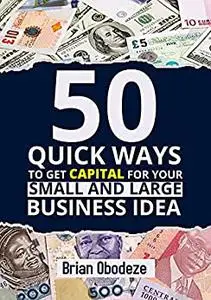 50 Quick Ways to Get Capital for your Small and Large Business Idea: Easy Fundraising Techniques and Ways To Secure Venture Capital for Your Entrepreneurial /Start-up Business Idea by Brian Obodeze
English | 2021 | ISBN: N/A | ASIN: B0971QFPD4 | 192 pages | EPUB | 0.47 Mb
Venture Capital is vital to business! Most extraordinary business ideas that have ever been conceived over time by aspiring entrepreneurs who need urgent funding for business are slaughtered on arrival by its nemesis—the lack of capital.
Angel investors and bank loans often have a steep percentage ROI that stifles progress. But there are other ways to get capital today! Whether it is capital for small businesses or funding for large businesses, your business ideas can get funding from the ventures in this book.
50 quick ways to get capital for your small and large business idea is an aggregate of ingenious ideas accumulated from vast sources on quick ways by which anyone from any geographical location can secure capital for their business. These ideas are practical and intuitive, explained with steps and strategies to achieve adequate capital in the shortest period of time.
Who is this book for?
Those who urgently require capital to start a small or large business
Those who loathe the idea of a 9 to 5 job
Those who want to start a business but don't have capital
Those who require financial freedom
Those who prefer to avoid bank loans, credits, and all forms of lending scheme
Those who have debts to pay off
Those who desire a quick and sure means to make money
Those who do not have any skill or formal education
Those with skills, literate, and require capital with little or no investment
Those who are financially stranded and need an urgent means of income
50 quick ways to secure capital are comprehensively highlighted in this masterpiece and are suited for people of all variations, skills, social statuses, geographic allocation, ages, races, and other demographics.
The author provides insight on the steps, earning potential, and feasibility of each idea, giving the audience all the information they'd require to make an informed choice.
Feel Free to contact me for book requests, informations or feedbacks.
Without You And Your Support We Can't Continue
Thanks For Buying Premium From My Links For Support