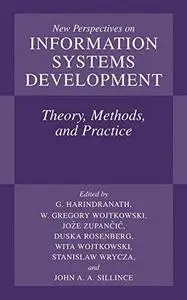 New Perspectives on Information Systems Development: Theory, Methods, and Practice By Elayne Coakes, Tony Elliman (auth.), G. Harindranath, W. Gregory Wojtkowski, Jože Zupančič, Duska Rosenberg, Wita Wojtkowski, Stanislaw Wrycza, John A. A. Sillince (eds.)
2002 | 695 Pages | ISBN: 1461351499 | PDF | 27 MB
This book is a result of the Tenth International Conference on Information Systems Development (ISD2001) held at Royal Holloway, University of London, United Kingdom, during September 5-7, 2001. ISD 2001 carries on the fine tradition established by the first Polish-Scandinavian Seminar on Current Trends in Information Systems Development Methodologies, held in Gdansk, Poland in 1988. Through the years, this seminar evolved into an International Conference on Information Systems Development. The Conference gives participants an opportunity to express ideas on the current state of the art in information systems development, and to discuss and exchange views on new methods, tools, applications as well as theory. In all, 55 papers were presented at ISD2001 organised into twelve tracks covering the following themes: Systems Analysis and Development, Modelling, Methodology, Database Systems, Collaborative Systems, Theory, Knowledge Management, Project Management, IS Education, Management issues, E-Commerce. and Technical Issues. We would like to thank all the contributing authors for making this book possible and for their participation in ISD200 1. We are grateful to our panel of paper reviewers for their help and support. We would also like to express our sincere thanks to Ceri Bowyer and Steve Brown for their unfailing support with organising ISD2001.