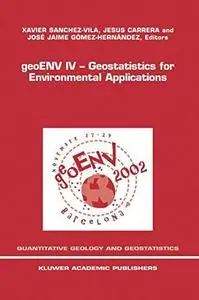 geoENV IV - Geostatistics for Environmental Applications (Quantitative Geology and Geostatistics) By Xavier Sanchez-Vila, Jesus Carrera, Jaime Gomez-Hernandez
2004 | 553 Pages | ISBN: 1402020074 | PDF | 14 MB
This volume contains forty-one selected full-text contributions from the Fourth European Conference on Geostatistics for Environmental Applications, geoENV IV, held in Barcelona, Spain, November 2002. The objective of the editors was to compile a set of papers from which the reader could perceive how geostatistics is applied within the environmental sciences. A few selected theoretical contributions are also included. The papers are organized in the following sections: Air pollution and satellite images, Ecology and environment, Hydrogeology, Climatology and rainfall, Oceanography, Soil science, Methodology. Applications of geostatistics vary from particle matter analysis, land cover classification, space-time ozone mapping, downscaling of precipitation, contaminant transport in the subsurface, aquifer reclamation, analysis of Iberian hare or phytoplankton abundance, coastal current patterns, to soil pollution by heavy metals or dioxins. At the back of the book nineteen posters presented at the congress are included. The combination of full texts and posters provides a picture of the tendencies that can presently be found in Europe regarding the applications of geostatistics for environmentally related problems. Audience: After four editions the geoENV Congress Series has established itself as a 'must' to all scientists working in the field of geostatistics for environmental applications. Each geoENV congress covers the developments which have occurred during the preceding two years, but always with a highly applied focus. It is precisely this focus on the applications to environmental sciences which makes the geoENV volumes unique and of great interest and practical value to geostatisticians working both in academia and in industry.