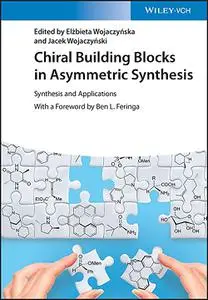 Chiral Building Blocks in Asymmetric Synthesis: Synthesis and Applications
English | 2022 | ISBN: 3527349464 | 669 Pages | PDF (HQ) EPUB (True) | 85 MB
Chirality — the asymmetric quality found in certain chemical compounds — plays an essential role in our world: chiral compounds can be found in biology, pharmaceutical compounds, agrochemicals, and fragrances. The stereoselective preparation of these complex molecular constructions constitutes a challenge. To this end, modern asymmetric synthesis utilizes a variety of valuable and efficient reagents employed as chiral auxiliaries, metal complexes and organocatalysts in stereoselective catalysis, and enantiopure reactants termed as chiral building blocks.