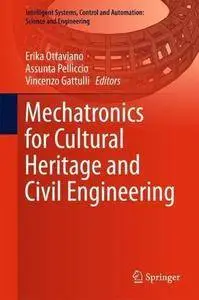 Mechatronics for Cultural Heritage and Civil Engineering (Intelligent Systems, Control and Automation: Science and Engineering) by Erika Ottaviano
English | 23 Jan. 2018 | ISBN: 3319686453 | 373 Pages | PDF | 13.19 MB
This book presents recent advances in mechatronic and integrated monitoring and management systems with applications to architectural, archaeology survey, construction management and civil engineering. It consists of 16 chapters authored by recognized experts in a variety of fields including dynamics, signal processing, inverse modeling, robotics and automation, in particular, here applied to design and construction of civil structures and architectural survey, monitoring and maintenance of cultural heritage assets, structures and infrastructure. The book is organized in three main sections: "Robotics and Automation", "Digital Technologies for Cultural Heritage" and "Civil Structural Health Monitoring". Topics include image processing for automated visual inspection, fiber optical sensor technology, wireless sensor monitoring, bridge inspection and monitoring of tunnel infrastructures, design tools for construction engineering, smart cities. Direct and inverse modeling of multibody systems and robots contributes to the development of applications for civil engineering and smart cities. Digital technology and mechatronic systems changes the way of looking at restoration of historical and archeological sites, analysis, inspection, visualization, management systems and sensor network for Human-Machine Interfaces (HMI). Combined use of geographical information system (GIS), laser scanner, remote sensing, digital thermography and drones as integrated systems permits to highlight new frontier for building and infrastructure knowledge.