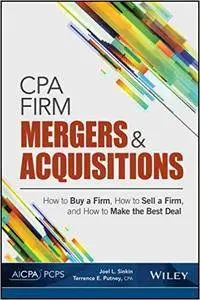 Joel L. Sinkin and Terrence E. Putney, "CPA Firm Mergers and Acquisitions: How to Buy a Firm, How to Sell a Firm, and How to Make the Best Deal"
English | ISBN: 194023512X | 2017 | 272 pages | PDF | 4 MB
Chances are you re looking to buy, sell, or merge your CPA firm. Owners at firms of all sizes are seeking solutions to fund retirements or grow their practices. And, CPA firm M&A activity is only going to increase in the coming years new deals are announced almost daily.
Fortunately, there are steps you can take right now to position you and your firm for success. Written with both buyers and sellers in mind, this comprehensive resource aims to ensure that both parties to a transaction achieve their goals.
Authors and transition experts Joel Sinkin and Terrence Putney demonstrate that it is possible to arrive at a reasonable deal where retiring partners are paid a satisfying price for the practice they ve built, remaining partners make more than they did before, and new owners take on a practice that is poised for continuing success and potential growth.
Sinkin and Putney share their best advice on how to:
Determine your firm s value,
Get to know your potential partner in a deal,
Select a successor your clients will love,
Structure alternative deals,
Avoid roadblocks,
Prepare a practice continuation agreement,
Perform due diligence,
Execute a win–win deal, and
Time and plan for your transition.
Each chapter concludes with an Action Agenda to help spur your planning. Plus, it includes a collection of practical tools to assist you through the process of buying, selling, or merging, including practice summary tools, an annual succession planning checklist, sample practice continuation agreement, sample client announcements, due diligence tools, and sample transition letters.