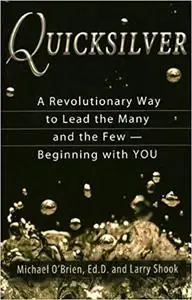 Quicksilver: A Revolutionary Way to Lead the Many and the Few – Beginning with YOU by Michael O'Brien, Larry Shook
English | November 1, 2009 | ISBN: 1934738212 | 221 pages | PDF | 1.04 MB
Are you dangerously normal? Most of the world's catastrophes don't come from mistakes. Wars, NASA space tragedies, global economic meltdowns all have one thing in common—they are caused by normal thinking. Quicksilver shows that humanity now suffers from a learning disorder that threatens our future. As a result, leaders must develop a shape-shifting ability to continuously adjust themselves and their organizations to quicksilver conditions. The book looks at the failed leadership behind the 2008 economic crisis from the perspective of the fast-changing digital world, which has outpaced habits of mind. It focuses on cognitive psychology and proposes a set of practices aimed at coping with problems of the digital age. We are all leaders. Quicksilver will teach you how to inoculate yourself against self-defeating, normal thinking, and systematically neutralize fear, which comes in many guises. Be a leader with the personal courage and integrity that people will want to follow.