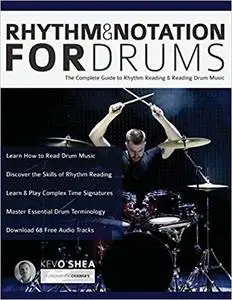 Rhythm and Notation for Drums: The Complete Guide to Rhythm Reading and Drum Music by Mr Kev O'Shea, Mr Joseph Alexander
English | ISBN: 191126754X | 69 pages | EPUB | April 19, 2017 | 14 Mb
Master the notation of rhythm on drums and build rhythm reading skills for a lifetime
Rhythm and Notation for Drummers teaches you to correctly play, understand and combine essential drum techniques to become a better musician, quickly and easily. Are you struggling to learn drum music?Would you like an effective way to memorize, play and combine techniques and rudiments to make music on the drums?Do you want to confidently read rhythm on drums the right way?Do you want to build perfect drum practice habits that stay with you for a lifetime?
Most beginner drum students know a few rhythms and symbols but few actually realize it is quick and easy to expand into effortless competent understanding of how to read drum music and play all the essential techniques.Rhythm and Notation for Drummers is not just a cold list of drum theory, it's a complete guide for beginners that teaches you how to read and write notation for a lifetime of drumming success.>Learn Essential Drum Note Reading Skills:Discover how to read and play every common notation on drumsMaster rhythm reading on drumsUnderstand and play complex timePlay accurate rhythm divisions, every timeApply and master musical terminology to become a better drummerHere's What You Get:A complete course, building from the first essential drum rhythms and symbols to help you memorize, understand and apply drum notation musicallyDetailed analysis of over 20 everyday drum techniques and their application to the drum kitUnderstanding of how to read rhythms on drums the right way, and the theory of how they are constructedMath to Music: Essential rhythms and techniques are broken down so you understand them before you play themLearn how to write down and document complex drum pieces - an invaluable skill!
Bonus Test Yourself: Detailed revision sections at the end of each chapter
Bonus Get the Audio! Don't just understand music! – Hear every example played live and professionally recordedAre you Missing Part of the Puzzle When you Learn Drums??
Rhythm and Notation for Drummers guides you in small friendly steps, from basic note divisions right through to an understanding of complex time.
Throughout, there is an emphasis on using the correct counting, combining drum techniques smoothly, building great technique and developing creativity on drums.
You'll master every note value, and learn to recognise it on the drum score and at the end of each chapter, the newly introduced rhythms and techniques are combined into real-life challenging musical progressions. How to Write Drum Music
Also included is a detailed 'How to Write Your Own Drum Music' so you can quickly and easily write and remember your own drum parts…Hear it!
Learning rhythms from paper is one thing, but once you hear how to apply them, they become music. Rhythm and Notation for Drummers contains many supporting audio examples to help you get inside the music, and quickly apply every new rhythm and technique in a musical situation.
Understand, recognize, hear and play every single rhythm you'll need, while mastering the techniques you'll use in every piece of music.
Drummers, buy it now and make a big improvement in your musicianship today