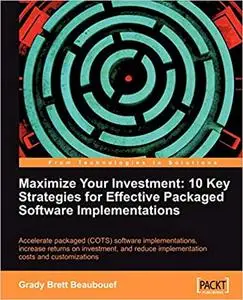 Grady Brett Beaubouef, "Maximize Your Investment: 10 Key Strategies for Effective Packaged Software Implementations"
English | ISBN: 1849680027 | 2009 | 290 pages | PDF | 1449 KB
This is a handbook covering ten principles for packaged software implementations that project managers, business owners, and IT developers should pay attention to. The book also has practical real-world coverage including a sample agenda for conducting business solution modeling, customer case studies, and a road map to implement guiding principles. This book is aimed at enterprise architects, development leads, project managers, business systems analysts, business systems owners, and anyone who wants to implement packaged software effectively. If you are a customer looking to implement COTS software in the future then this book will provide a strategy to maximize your investment. If you are in an internal IT role and you find that your internal software development methodology doesn't quite work for an off-the-shelf business software package then this book will provide you with perspective on how to adjust your approach. If you are an implementation partner looking to minimize the blood, sweat, and tears shed with implementing COTS software then this book will be a guide to filter out obstacles and enable implementation focus.