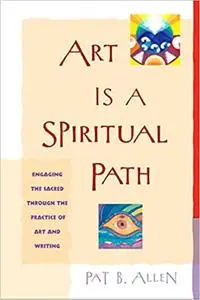 Pat B. Allen, "Art Is a Spiritual Path: Engaging the Sacred through the Practice of Art and Writing"
English | 2005 | ISBN: 1590302109 | EPUB | pages: 224 | 3.2 mb
Art is a spiritual path—not a religion, but a practice that helps us knit together the ideals and convictions that guide our lives. Creating art can be prayer, ritual, and remembrance of the Divine. And the sharing of this creativity with others in small groups can serve as sanctuary, asylum, ashram, therapy group, think tank, and village square. Pat Allen has developed a reliable guide for walking the path of art through a series of simple practices that combine drawing, painting, and sculpture with journal writing. Designed for readers at any level of artistic experience, the book shows how to:
   •  awaken the creative force and connect with the divine source of creativity
   •  access inner wisdom and intuition about life issues, including both personal and community concerns
   •  find a path to meaning that includes honoring, celebrating, and giving thanks
   •  explore the images and symbols of traditions such as Catholicism, Judaism, shamanism, and Goddess worship
   •  join in spiritual community with others who are following the path of art
   •  discover that artmaking can help us live our ideals and be of service in the world
Detailed examples from the author's own practice of art, plus the stories and images of several other people, are presented to illustrate how art becomes a spiritual path in action. At the author's virtual studio,
www.patballen.com
, readers can post their images and writings, communicate with the author, and subscribe to an electronic newsletter. The site also contains an archive of the images in this book in full color.