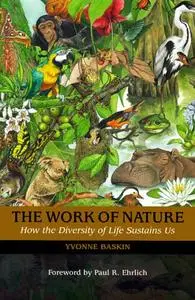 The Work of Nature: How the Diversity of Life Sustains Us by Yvonne Baskin
English | February 1, 1997 | ISBN: 1559635193 | EPUB | 282 pages | 14.8 MB
"We do not question that flesh and bone and leaf litter will decay to dust, that seeds will sprout season after season and find renewed nourishment in the soil, that rivers can flow endlessly without running dry, that we can breathe a lifetime without depleting the air of oxygen…. What humans have not fully appreciated until recently is that these services are the work of nature, performed by the rich diversity of microbes, plants, and animals on the earth." –from The Work of Nature
The lavish array of organisms known as "biodiversity" is an intricately linked web that makes the earth a uniquely habitable planet. Yet pressures from human activities are destroying biodiversity at an unprecedented rate. How many species can be lost before the ecological systems that nurture life begin to break down?
In The Work of Nature, noted science writer Yvonne Baskin examines the threats posed to humans by the loss of biodiversity. She summarizes and explains key findings from the ecological sciences, highlighting examples from around the world where shifts in species have affected the provision of clean air, pure water, fertile soils, lush landscapes, and stable natural communities.
As Baskin makes clear, biodiversity is much more than number of species – it includes the complexity, richness, and abundance of nature at all levels, from the genes carried by local populations to the layout of communities and ecosystems across the landscape. Ecologists are increasingly aware that mankind's wanton destruction of living organisms – the planet's work force – threatens to erode our basic life support services. With uncommon grace and eloquence, Baskin demonstrates how and why that is so.
Distilling and bringing to life the work of the world's leading ecologists, The Work of Nature is the first book of its kind to clearly explain the practical consequences of declining biodiversity on ecosystem health and function.