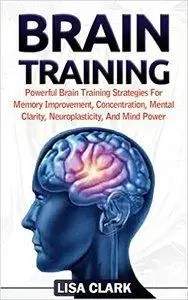 Lisa Clark, "Brain Training: Powerful Brain Training Strategies For Memory Improvement, Concentration, Mental Clarity, Neuroplasticity, And Mind Power"
2015 | EPUB | 46 pages | ISBN: 1511510226 | English | 0.14 MB
Ever thought how powerful your brain can be and how well you can train it for improving memory, concentration, mental clarity and mind power. If not, go through this book and you will have all your answers. This book describes in detail about powerful brain training strategies for memory improvement, concentration, mental clarity and mind power. The book explains how you can train your brain and improve all these in a chapter wise manner. The book also explains in detail in a separate chapter about "Neuroplasticity", which is a theory that believes that the brain is not a static organ and can be altered through various techniques and methods.
Brain training is a very powerful method that enables you to improve your learning, memorizing and other capabilities. If properly trained, the brain can be transformed into a very efficient one which will in turn transform your daily routine and life. The most important and easy strategies for brain training are a few lifestyle changes as well as mediation. Mediation can remarkably affect your brain. The book gives a detailed explanation about all this which will help you realize how well you can modify your brain and use it like never before.
As you go through this book, you will learn about:
How to train your brain for memory improvement
What neuroplasticity is and how it can be used your benefit
What are the various ways in which you can increase concentration
What strategies can be used to achieve mental clarity
How the brain can be trained to develop mind power