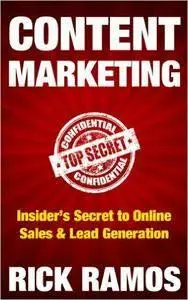 Rick Ramos, "Content Marketing: Insider's Secret to Online Sales & Lead Generation"
English | ISBN: 1490563210 | 2013 | EPUB, MOBI | 120 pages | 6 MB
The Internet has changed marketing for good. People no longer wait to be told what to buy. Instead consumers proactively do research online to make their final purchasing decisions. The best way to reach this new consumer is to provide them with that key information. You need content that will educate, engage, and entertain your consumer about your products and services to make the sale.
Content Marketing: Insider's Secret to Online Sales & Lead Generation is a step by step guide that will teach you the correct way to start and run a content marketing program. It will show you how to attract new customers and keep them engaged with your brand.
"Content marketing is the only way to become a true thought leader. This book provides all the fundamentals of how to think about, generate, distribute, and measure the results of great content. There is no substitute for a well-executed content marketing strategy, especially for B2B and SAAS businesses. Rick Ramos spells out everything you need to build a great content foundation."
Peter Hamilton, CEO of HasOffers.com
"Rick Ramos has created a concise, step-by-step guide for marketers that explains how brands can create and leverage content to increase leads and generate sales. A must-read for any marketer navigating today's content-fueled media landscape."
Steve Hall, Adrants.com - Editor and Publisher
"This book is about more than just content marketing. It's about making your business become a part of the conversation. Through this book you learn how to inform your customers to make intelligent decisions. I think that every business should adopt the strategies that it outlines."
Clark Landry, Co-founder and Chairman at SHIFT.com