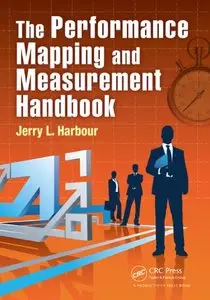 The Performance Mapping and Measurement Handbook by Jerry L. Harbour
English | 2013 | ISBN: 1466571349, 113846385X | 185 pages | PDF | 5,7 MB
To better understand and improve your systems, you must measure and map their essential characteristics. Yet, because your systems and their associated processes occur over varying spatial and temporal scales, you will need various types of maps and metrics—depending on the level of detail and understanding required.
During nearly four decades of experience helping clients across various industries understand, measure, and improve the performance of their processes, Jerry L. Harbour discovered a handful of performance maps that will work in most settings. As such, he's gathered these critical few maps into The Performance Mapping and Measurement Handbook.
In this handbook, Dr. Harbour explains performance mapping and measurement techniques at widely differing spatial and temporal scales. Using real-world examples and language that is easy to understand, he demonstrates the effective use of:
• Node-link maps
• Process activity maps
• Process step maps
• Basic task element maps
• Event pathway maps
• Response timeline maps
• Key performance driver maps
Filled with graphical illustrations, the book can be read sequentially or used as a "How do I do that?" reference book. It includes easy-to-follow explanations along with numerous examples of both good and bad implementation. In addition, it includes case studies from a wide range of operational and industrial settings that clearly demonstrate how the mapping and measurement techniques described in the book can be applied to new technologies and processes.
My nickname -
interes