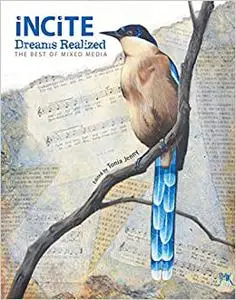 Tonia Jenny, "Incite: Dreams Realized "
English | ISBN: 1440324816 | 2013 | 144 pages | AZW3 | 14 MB
Expressive. Brave. Enchanting. Soul-kindling. Compelling. The best of mixed media.
All of these are embodied in the premier edition of Incite. The 93 artists behind these incredible works (more than 120 total!) share their stories of artistic visions fulfilled, lofty goals achieved and daunting obstacles overcome.
From persevering through personal struggles to mastering difficult mixed-media techniques, from collage and encaustic to assemblage and jewelry, the stories and art in Incite, Dreams Realized will inspire you to think big, never give up and dare to realize your own dreams.
""My dream for my art is to share a private moment, a part of my soul and a feeling of magic." - Marty Husted
"Give rise to your future through creative endeavor." - Judith Randall