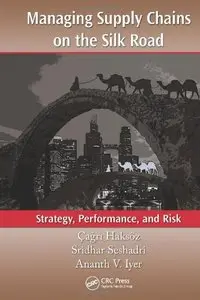 Managing Supply Chains on the Silk Road: Strategy, Performance, and Risk by Çagri Haksöz, Sridhar Seshadri and Ananth V. Iyer
English | 2011 | ISBN: 1439867208 | 323 pages | PDF | 3 MB
Historically important trade routes for goods of all kinds for more than 3000 years, the Silk Road has once again come to prominence.
Managing Supply Chains on the Silk Road: Strategy, Performance, and Risk present emerging supply chain practices from the Silk Road regions that include China, Hong Kong, India, Pakistan, Iran, Central Asia, Lebanon, Turkey, Israel, and Hungary. It takes a results-oriented, comparative approach to supply chain management covering structural, strategic, and operational topics.
The book first presents how the historical Silk Road supply chains operated and then provides new and interesting examples from different countries the Silk Road passed, from China to Europe. The text demonstrates that the supply chain concept and its related practices are not new, per se, and invented recently in the West. Rather, it was practiced for centuries along the Silk Road and became the foundation for today's global supply chains. Against this backdrop, the book explores the differences and similarities along the Silk Road in the supply chain management process and what can be learned from them.
As supply chains become longer, leaner, and more scattered around the globe, performance and risk become two sides of a coin. Bringing together a diverse team of experts from academia and the business world, the book's coverage spans not only regions, but industries. This fresh perspective provides insights for assessing performance and hedging risk and opens up new directions for research.
… Haksoz, Seshadri, and Iyer have brought together 28 scholars and business executives from different continents to share their perspectives about past and present trading activities along the Silk Road. … [the book] examines a wide range of issues arising from a multicultural perspective. … provides clear insights of the past and the present that will help academics and practitioners to gain a better understanding of the future.
-From the foreword by Christopher Tang, University of California, Los Angeles
My nickname -
interes