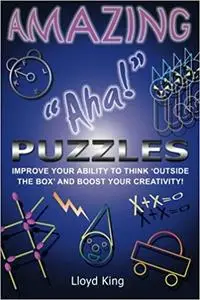 Lloyd King, "Amazing "Aha!" Puzzles"
English | ISBN: 1411613309 | 2008 | 180 pages | PDF | 2 MB
BOOST YOUR CREATIVE GENIUS! (Paperback)Do you want to improve your ability to think 'outside the box' and boost your creativity? From the author of Test Your Creative Thinking (The Times) comes this truly mind-altering and inspirational book of more than 300 brand new lateral puzzles, which provide a fantastic opportunity for anyone to improve their creativity and mental flexibility. It is packed with all kinds of fun and imaginative problems of varying degrees of difficulty that encourage you to break out of familiar thought patterns and to think creatively and 'outside the box'. In addition, the puzzles have extremely rewarding and addictive "Aha!" answers absolutely guaranteed to make you both groan and smile at the same time. Puzzle wizards, young and old, will absolutely love this book as well as be completely enchanted by it!