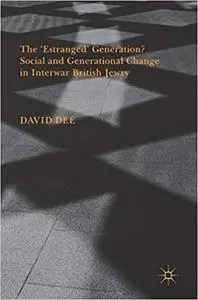 David Dee, "The 'Estranged' Generation? Social and Generational Change in Interwar British Jewry"
English | ISBN: 1349952370 | 2017 | 391 pages | EPUB | 4 MB
This book focuses on the nature and extent of social change, integration and identity transformation within the Jewish community of Britain during the interwar years. It probes the notion – widely articulated by Jewish communal leaders at this time – that the immigrant second generation (i.e. British and foreign-born children of Russian and Eastern European Jews who migrated to Britain in the late Victorian era up to the First World War) had 'estranged' themselves from their Jewishness, Jewish elders and peers and were fast assimilating into the British mainstream.The volume analyses the second generation's developing outlooks and behavioural trends in a variety of environments, effectively charting the changes and continuities present therein. As a whole, the book sheds light on the varied ways in which this group developed new identities that both drew from and reflected their Jewish and British heritage.