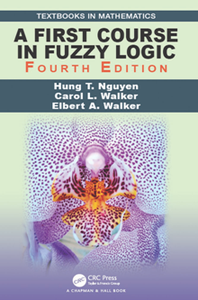 A First Course in Fuzzy Logic, Fourth Edition
by Hung T. Nguyen, Carol L. Walker
English | 2019 | ISBN: 1138585084 | 459 Pages | PDF | 13.1 MB
A First Course in Fuzzy Logic, Fourth Edition is an expanded version of the successful third edition. It provides a comprehensive introduction to the theory and applications of fuzzy logic.
This popular text offers a firm mathematical basis for the calculus of fuzzy concepts necessary for designing intelligent systems and a solid background for readers to pursue further studies and real-world applications.
New in the Fourth Edition:
- Features new results on fuzzy sets of type-2
- Provides more information on copulas for modeling dependence structures
- Includes quantum probability for uncertainty modeling in social sciences, especially in economics
With its comprehensive updates, this new edition presents all the background necessary for students, instructors and professionals to begin using fuzzy logic in its many—applications in computer science, mathematics, statistics, and engineering.