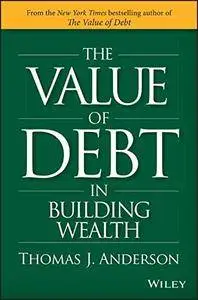 The Value of Debt in Building Wealth
Wiley | English | February 2017 | ISBN-10: 1119049296 | 272 pages | PDF | 2.43 mb
by Thomas J. Anderson (Author)
The book of financial wisdom that your future self will thank you for reading
For many adults under 40, 'debt' is a four-letter word—something that should be avoided but is all too often unavoidable. In The Value of Debt in Building Wealth, bestselling author Thomas J. Anderson encourages you to rethink that. You'll walk away from this book with an understanding of how you can use debt wisely to secure the financial future you envision for yourself and your family. Student loans, mortgages, lines of credit, and other forms of debt are all discussed in detail, with a focus on smart planning for those who are accumulating assets—and debt—now.
Should you rent or buy? How important is liquidity? What is good versus bad debt? How much debt should you have? What debt-to-income and debt-to-asset ratios should you aim for? Fixed debt or floating debt? What's the best way of saving for college and retirement? These are big questions that deserve thorough answers because the choices you make now could influence the course of your life. This thought-provoking book will open your eyes to savvy financial strategies for achieving your goals faster and with healthier bank accounts.
Explore strategies for smart debt management, explained by one of the nation's top financial advisors
Gain an understanding of investment basics and key financial concepts you'll need to achieve your long-term goals
Understand the risks of having debt and the potential risks of being debt-free
Make financial decisions now that will maximize your wealth, freedom, and opportunity later
This book is not about buying things you cannot afford. It is about liquidity, flexibility and optimizing your personal balance sheet. The Value of Debt in Building Wealth is full of ideas you can apply to your own situation—no matter what your current asset level. Read this book today and thank yourself later
Praise for THE VALUE OF DEBT IN BUILDING WEALTH
"Trying to achieve financial success without using one side of the balance sheet is like trying to swim without using one of your arms: you'll survive, but you won't be winning any races. Tom has explained how to strategically and prudently use debt to build wealth and live a better life."
—Raj Date, Former Deputy Director, U.S. Consumer Financial Protection Bureau, and Managing Partner, Fenway Summer Ventures
"The invention of debt fueled all of the Enlightenment, the Industrial Revolution, and Silicon Valley, and has resulted in almost every innovation and invention that man uses today. Nobody gets this. Tom Anderson gets this. A valuable book to understand a controversial topic."
—James Altucher, bestselling author of Choose Yourself and The Power of No
"Given how many people get trapped in the cycle of oppressive, high-interest rate debt, it's easy to dismiss all debt as inherently bad. The Value of Debt in Building Wealth shows us—both practically and mathematically— that the right kind of low-interest debt can help grow wealth. Debt can and should be used to invest in growth: a home, a business, or your own education, and if your return on investment exceeds the cost of debt. This book will give you a plan."
—Aaron Patzer, Founder of Mint.com
"There is a wealth of deep knowledge in finance on the value of debt for both corporations and individuals and how the judicious use of debt can ensure that its benefits exceed its costs. However, much of this knowledge remains within academia and is not readily accessed by households and individuals who have much to learn from it. Tom's book does a great service by taking this knowledge, combining it with his own vast experience in financial markets, and presenting it in a refreshingly new and persuasive way. It should be a valuable tool for people who want to learn how to optimize the way they use both sides of their balance sheets to build and preserve their wealth for a better life."
—Dr. Anjan Thakor, Director of Doctoral Programs, and John E. Simon Professor of Finance, Olin School of Business, Washington University
"Tom encourages us to look at how using both sides of the balance sheet can help us achieve our goals. The real-world case studies will have you wondering why you've never heard about debt in this way before. You'll close this book feeling more empowered about your financial future."
—Dr. Michael Gibbs, Clinical Professor of Economics, Booth School of Business, University of Chicago
"Embracing debt can be a tough concept to overcome. In The Value of Debt in Building Wealth, Tom once again shows a way to break through the conventional noise by offering a thoughtful perspective grounded in proven financial theories on the strategic use of debt. Thought-provoking, digestible, and compelling, this book is for everyone who wants to get the most out of their money at each stage of their life."
—Dr. Mahendra Gupta, Geraldine J. and Robert L. Virgil Professor of Accounting and Management, and former Dean, Olin School of Business, Washington University