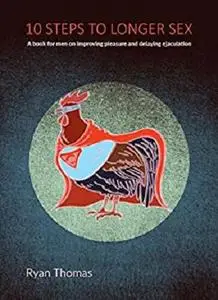 10 Steps to Longer Sex: A Book for Men on Improving Pleasure and Delaying Ejaculation
by Ryan Thomas, JP Chau, Christopher Sol
English | August 20, 2016 | ISBN: N/A | ASIN: B01KRBOO5S | 87 pages | EPUB | 0.29 Mb
Premature ejaculation is a troubling challenge for many men, and their partners. Ejaculating too quickly (ie less than 2-5 minutes) on a regular basis inhibits a man's ability to feel the full potential of his own pleasure and arousal. And it prevents his partner from experiencing levels of orgasmic bliss that can only be obtained through extended penetration.
Premature ejaculation could be a way for a man to withdraw from his partner due to anger and/or resentment. Shame and an unconscious belief that sex and sexuality is bad, or that women (in a heterosexual example) don't want sex, could also be a driving factor behind premature ejaculation. Or anxiety and a simple lack of physical awareness of pleasure and the Arousal Arc could be the source.
Few books offer a comprehensive list of physical, mental AND emotional drivers behind this challenge. This book does. It offers just about every angle behind the sources of premature ejaculation and their respective solutions. And although the pictures aren't 'pop-up pictures' (the author apologizes), they offer an extra dimension to a deeper understanding of delaying the ejaculatory response.
Whether a man has been struggling with this for years, or if he just wants to pick up some extra tips on how to make his 'tip' feel better, this book will undoubtedly offer insights and exercises to achieve a 'super-cock.'
Feel Free to contact me for book requests, informations or feedbacks.
Without You And Your Support We Can't Continue
Thanks For Buying Premium From My Links For Support