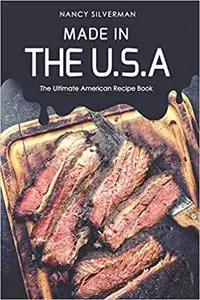 Nancy Silverman, "Made in the U.S.A: The Ultimate American Recipe Book"
English | ISBN: 1095547011 | 2019 | 86 pages | AZW3 | 3 MB
If you always want to learn how to make authentic American foods in your home, then this would be the cookbook for you!
Inside of the Made in the U.S.A. cookbook, you'll find recipes for classic American dishes from all regions of the country, including:
* Southern Macaroni and Cheese
* Texas Crockpot Chili
* Homemade Onion Rings with Ranch Dressing
* Baby Back Ribs
* Classic Chicken Fried Steak
* Skillet Chicken Pot Pie
* New England Clam Chowder
* Philly Cheesesteak Sandwiches
* Southern Cornbread
* Pulled Pork
* Chicken and Sausage Gumbo
* Spinach & Artichoke Dip
* Homemade Cherry Pie
…and much, much more! So, what are you waiting for? Grab your slice of American Pie by purchasing the Made in the U.S.A. cookbook today!