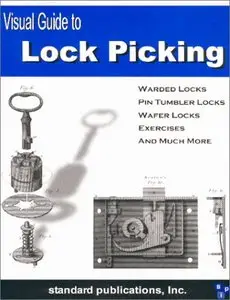 Visual Guide to Lock Picking by Mark McCloud
English | 2001 | ISBN: 0970978804, 0970978863 | 64 pages | PDF | 1 MB
The Visual Guide to Lock Picking has been the definitive guide for learning the art of lock picking. The Third Edition updates all of the illustrations with new, high quality, computer graphics. Over 100 new pages have been added.
Inside, you will find interesting material and lock picking how-to for pin tumblers, warded locks, wafer locks, tubular locks, combination padlocks, and lever locks. This acclaimed guide reveals the secrets of the trade and makes learning the art of picking fun and easy. You don t have to waste time guessing how it s done, reading some amateur s theories, or trying to learn from the movies (they always get it wrong). Now you can get accurate information that the professionals use to give you the edge. What really sets this book apart is the quality of illustrations, which make lock picking easy to understand. The visual approach makes it easy to see how locks really work. Each type is completely dissected, exposing every moving part. Step-by-step instructions are given for picking each kind of lock. You will be lead through the entire process, from introducing the necessary tools, to explaining several techniques that will lead you to that satisfying click as your lock springs open!
This book is the premier guide on picking locks. Even if you already know how to pick some locks, this book covers tips and techniques. Exercises are also explained to help you hone your skills. From simple locks, to high security pins, almost all modern lock types are covered; making it the perfect locksmith s companion. Now, you can understand the technology that has kept thieves at bay for centuries. Since the time of antiquity, within the halls of the great pyramids, tomb raiders found their untold treasures behind surprisingly sophisticated locks. Today s locks inherit from these same designs. We give you the keys to their secrets.