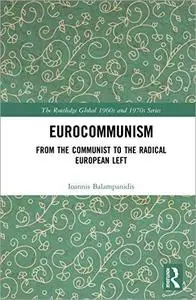 Eurocommunism: From the Communist to the Radical European Left by Ioannis Balampanidis
English | November 15, 2018 | ISBN: 0815373325 | EPUB/PDF | 278 pages | 2.7/3 MB
Eurocommunism constitutes a "moment" of great transformation connecting the past and the present of the European Left, a political project by means of which left-wing politics in Europe effected a definitive transition to a thoroughly different paradigm. It rose in the wake of 1968 – that pivotal year of social revolt and rethinking that caused a divide between radical, progressive and socialist thinking in western and southern Europe and the Soviet model. Communist parties in Italy, France, Spain and Greece changed tack, drew on the dynamics of social radicalism of the time and came to be associated with political moderation, liberal democracy and negotiation rather than contentious politics forging a movement that would hold influence until the early 1980s. Eurocommunism thus wove an original political synthesis delineated against both the revolutionary Left and the social democracy: "party of struggle and party of governance".