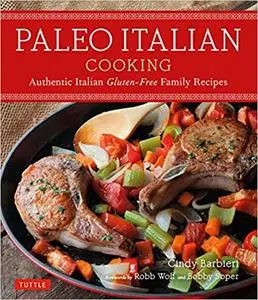 Cindy Barbieri, "Paleo Italian Cooking: Authentic Italian Gluten-Free Family Recipes"
English | ISBN: 0804845123 | 2015 | 160 pages | AZW3 | 9 MB
From her home to yours—Paleo Italian Cooking rounds up 100 authentic and easy-to-follow Italian recipes that allow you to eat a healthy Paleo diet—without even knowing it!
Cookbook author and food blogger Cindy Barbieri discovered that she didn't have to reject her love of authentic Italian food when she decided to follow the Paleo approach to family dining. To her delight, she found her Nana's recipes, except for the pasta and Italian bread, were already healthy Paleo diet without even knowing it and those that were not inherently Paleo were easily converted with a few simple and healthy alterations—all without sacrificing the delicious flavors that she fell in love with as a child. Cindy's husband and kids enthusiastically embraced her nutritious and gluten-free Italian soups, salads, appetizers, entrees, sides and desserts—and your family will too!
In Paleo Italian Cooking, Cindy shows you how to prepare many night's menus of authentic yet contemporary family-style Paleo Italian meals. Inspired by her annual trips to Italy and meals she makes for her family along with the memories of the meals she made with her Nana, Cindy will have you cooking Italian every night of the week with recipes like:
Grilled Calamari Salad
Tuscan Chicken & Vegetable Chili
Chicken Scaloppine in Lemon-Caper Sauce
Osso Buco
Dover Sole Piccata
Pistachio-Crusted Cod with Roasted Pepper Sauce
Spaghetti Squash Puttanesca
Porcini Mushroom & Peas Cauliflower "Risotto"
Pistachio & Almond Biscotti
Prosecco & Peach Cocktails
Chocolate Pots de Creme
You will be able to achieve a maximum level of health—while losing weight—without tedious calorie counting, purchasing expensive-but-bland prepared diet foods or skimping on the satisfying meals you crave. Simply by avoiding grains, legumes and pasteurized dairy you'll be able to trim down while filling up. Look and feel great while indulging your passion for Italian food!