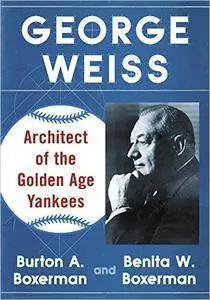 George Weiss: Architect of the Golden Age Yankees by Burton A Boxerman, Benita W Boxerman
English | July 25, 2016 | ISBN: 0786472537 | EPUB | 232 pages | 8 MB
The New York Yankees were the strongest team in the majors from 1948 through 1960, capturing the American League Pennant 10 times and winning seven World Championships. The average fan, when asked who made the team so dominant, will mention Joe DiMaggio, Yogi Berra, Whitey Ford or Mickey Mantle. Some will insist manager Casey Stengel was the key. But pundits at the time, and respected historians today, consider the shy, often taciturn George Martin Weiss the real genius behind the Yankees' success.
Weiss loved baseball but lacked the ability to play. He made up for it with the savvy to run a team better than his competitors. He spent more than 50 years in the game, including nearly 30 with the Yankees. Before becoming their general manager, he created their superlative farm system that supplied the club with talented players. When the Yankees retired him at 67, the newly franchised New York Mets immediately hired him to build their team. This book is the first definitive biography of Weiss, a Hall of Famer hailed for contributing "as much to baseball as any man the game could ever know."