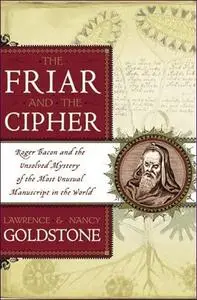 The Friar and the Cipher: Roger Bacon and the Unsolved Mystery of the Most Unusual Manuscript in the World by Lawrence Goldstone, Nancy Goldstone
English | February 15, 2005 | ISBN: 0767914732, 0767914724 | True EPUB | 336 pages | 4.6 MB
A compulsively readable account of the most mysterious manuscript in the world, one that has stumped the world's greatest scholars and codebreakers.
The Voynich Manuscript, a mysterious tome discovered in 1912 by the English book dealer Wilfrid Michael Voynich, has puzzled scholars for a century. A small six inches by nine inches, but over two hundred pages long, with odd illustrations of plants, astrological diagrams, and naked women, it is written in so indecipherable a language and contains so complicated a code that mathematicians, book collectors, linguists, and historians alike have yet to solve the mysteries contained within. However, in The Friar and the Cipher, the acclaimed bibliophiles and historians Lawrence and Nancy Goldstone describe, in fascinating detail, the theory that Roger Bacon, the noted thirteenth-century, pre-Copernican astronomer, was its author and that the perplexing alphabet was written in his hand. Along the way, they explain the many proposed solutions that scholars have put forth and the myriad attempts at labeling the manuscript's content, from Latin or Greek shorthand to Arabic numerals to ancient Ukrainian to a recipe for the elixir of life to good old-fashioned gibberish. As we journey across centuries, languages, and countries, we meet a cast of impassioned characters and case-crackers, including, of course, Bacon, whose own personal scientific contributions, Voynich author or not, were literally and figuratively astronomical.
The Friar and the Cipher is a wonderfully entertaining and historically wide-ranging book that is one part The Code Book, one part Possession, and one part The Da Vinci Code—and will appeal to bibliophiles and laypeople alike.