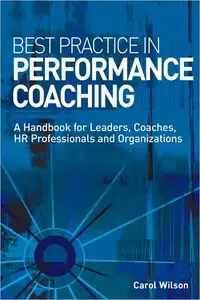 Best Practice in Performance Coaching: A Handbook for Leaders, Coaches, HR Professionals and Organizations by Carol Wilson
English | 2008 | ISBN: 0749450827 | 256 pages | PDF | 1,1 MB
Performance coaching helps individuals and organizations achieve their maximum potential, tackle challenges, and reach specific goals. It leads to personal and professional development and helps to create a work/life balance.
Best Practice in Performance Coaching is both an introduction for anyone thinking of becoming or hiring a coach – private or corporate – and a reference guide for experienced coaches. A practical guide to the "what" and "how" of performance coaching, it covers all topics from the personal and executive angle and explains the structure of a coaching relationship. There is extensive guidance on coaching techniques, models, and tools as well as advice on how to train as a coach, how to run a coaching practice and how to structure coaching sessions. Complete with worksheets, exercises, evaluations, and international case studies, this is a thorough guide to performance coaching.