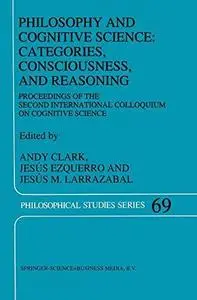 Philosophy and Cognitive Science: Categories, Consciousness, and Reasoning: Proceeding of the Second International Colloquium on Cognitive Science By Martin Davies (auth.), Andy Clark, Jesús Ezquerro, Jesús M. Larrazabal (eds.)
1996 | 270 Pages | ISBN: 9048147107 | PDF | 10 MB
PHILOSOPHY AND COGNITIVE SCIENCE: CATEGORIES, CONSCIOUSNESS, AND REASONING The individual man, since his separate existence is manifested only by ignorance and error, so far as he is anything apart from his fellows, and from what he and they are to be, is only a negation. Peirce, Some Consequences of Four Incapacities. 1868. For the second time the International Colloquium on Cognitive Science gathered at San Sebastian from May, 7-11, 1991 to discuss the following main topics: Knowledge of Categories Consciousness Reasoning and Interpretation Evolution, Biology, and Mind It is not an easy task to introduce in a few words the content of this volume. We have collected eleven invited papers presented at the Colloquium, which means the substantial part of it. Unfortunately, it has not been possible to include all the invited lectures of the meeting. Before sketching and showing the relevance of each paper, let us explain the reasons for having adopted the decision to organize each two years an international colloquium on Cognitive Science at Donostia (San Sebastian). First of all, Cognitive Science is a very active research area in the world, linking multidisciplinary efforts coming mostly from psychology, artificial intelligence, theoretical linguistics and neurobiology, and using more and more formal tools. We think that this new discipline lacks solid foundations, and in this sense philosophy, particularly knowledge theory, and logic must be called for.