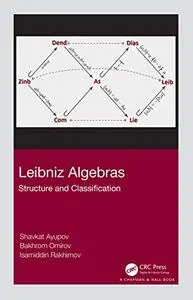 Leibniz Algebras: Structure and Classification
by Shavkat Ayupov
English | 2020 | ISBN: 0367354810 | 325 Pages | PDF | 2.26 MB
Leibniz algebra is the generalization of Lie algebras. These algebras preserve a unique property of Lie algebras that the right multiplication operators are derivations. They first appeared in papers of A.M Blokh in the 1960s, under the name D-algebras, emphasizing their close relationship with derivations. The theory of D-algebras did not get as thorough an examination as it deserved immediately after its introduction. Later, the same algebras were introduced in 1993 by Jean-Louis Loday , who called them Leibniz algebras due to the identity they satisfy. The main motivation for the introduction of Leibniz algebras was to study the periodicity phenomena in algebraic K-theory.