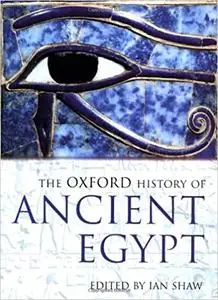 Ian Shaw, "The Oxford History of Ancient Egypt "
English | ISBN: 0198150342 | 2000 | 512 pages | PDF | 29 MB
Blending vividly written essays and over a hundred attractive illustrations–including 32 color plates–The Oxford History of Ancient Egypt is a stunningly designed and authoritative account of the once glorious civilization on the Nile.
Ranging from 700,000 BC to 311 AD, this volume portrays the emergence and development of Egypt from its prehistoric roots to its conquest by the Roman Empire. The contributors–all leading scholars working at the cutting edge of Egyptology–incorporate the latest findings in archaeological research as they chart the principal political events of Egyptian history, from the rise of the Pharaohs and the conquest of Egypt by Alexander the Great, to the ascension of the Ptolemies and the coming of Roman legions. The book also includes the first detailed examinations of three periods which were previously regarded as "dark ages." Against the backdrop of the birth and death of ruling dynasties, the writers also examine cultural and social patterns, including stylistic developments in art and literature, monumental architecture, funerary beliefs, and much more. The contributors illuminate the underlying patterns of social and political change and describe the changing face of ancient Egypt, from the biographical details of individuals to the social and economic factors that shaped the lives of the people as a whole.
The only up-to-date, single-volume history of ancient Egypt available in English, The Oxford History of Ancient Egypt is a "must read" for everyone interested in one of the great civilizations of antiquity.