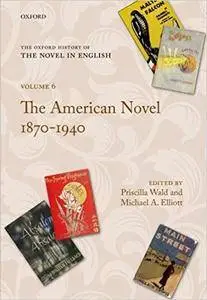 Priscilla Wald, Michael A. Elliott, "The Oxford History of the Novel in English: Volume 6: The American Novel 1879-1940"
2014 | pages: 656 | ISBN: 0195385349 | PDF | 5,3 mb
Witnessing the end of a war that nearly terminated the nation, the abolition of racial slavery and rise of legal segregation, the rise of Modernism and Hollywood, the closing of the frontier and two World Wars, the literary historical period represented in this volume constitutes the crucible of American literary history. Here, 35 essays by top researchers in the field detail how considerations of race and citizenship; immigration and assimilation; gender and sexuality; nationalism and empire; all reverberate throughout novels written in the United States between 1870 and 1940. Contributors discuss the professionalization of literary production after the Civil War alongside legal and political debates over segregation and citizenship; while chapters on journalism, geography, religion, and immigration offer discussions on everything from the lasting role of literary realism in American fiction to the Spanish-American War's effect on developing theories of aesthetics and popular culture. The volume offers thorough coverage of the emergence of serial fiction, children's fiction, crime and detective fiction, science fiction, and even cinema and comics, as new media and artistic revolutions like the Harlem Renaissance helped usher in the new international aesthetic movement of Modernism. The final chapters in the volume explore the relationship of the novel to the emergence of "American literature" as a category in the academy, in public criticism and journalism, and in mass culture.
My Link