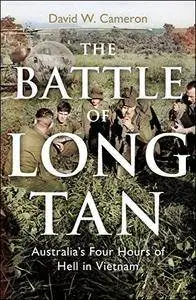 The Battle of Long Tan: Australia's Four Hours of Hell in Vietnam by David W. Cameron
English | August 15, 2016 | ISBN: 0143786393, 0670078271 | EPUB | 423 pages | 15.5 MB
On the afternoon of 18 August 1966, a rubber plantation near Long Tan, in Phuoc Tuy Province, South Vietnam, became the stage for one of the bloodiest battles of the Vietnam War involving Australian troops - and one of the most significant battles during the Vietnam War for the Australian Task Force.
The Australians had arrived at Nui Dat four months earlier to open up the province. While patrolling five kilometres east of Nui Dat, Delta Company of 6RAR, originally numbering just 105 Australians and three New Zealanders, collided with Viet Cong forces numbering around 2500 troops in the plantation, ahead of a planned Vietnamese ambush.
The enemy were surprised by their sudden appearances and attacked in force, using mortar, machine gun and small arms fire. Completely surrounded, and short on ammunition, the Australians could only guess at the overwhelming strength of the enemy that was attacking them. Morning light revealed a shattered woodland, trees bleeding latex - and hundreds of dead enemy soldiers who had fallen as part of numerous human-wave assaults against the small ANZAC force. What was first thought by the Australians to be a significant defeat quickly turned out to be a major victory.
Marking the battle's 50th anniversary, and drawing on unpublished first-hand accounts from servicemen at all levels of command, critically-acclaimed military historian David Cameron brings to life blow-by-blow the events of this famous battle as it unfolded - minute by minute, hour by hour - and reveals the deeds of heroism and mateship now part of Australia's Vietnam War story. His compelling account commemorates the men who fought in the rubber plantation of Long Tan - and those who did not come home.