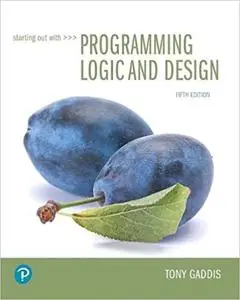 Starting Out with Programming Logic and Design (5th Edition)
by Tony Gaddis
English | 2019 | ISBN: 0134801156 | 980 Pages | PDF | 16 MB
Designed for beginners, the text is clear and approachable, making the complex concepts accessible to every student. In this new edition, Gaddis focuses on current languages providing code snippet examples and complete programs for each. The text uses updated, contemporary examples to familiarize students with models and logical thought processes used in programming without further complicating them with language syntax. By using easy-to-understand pseudocode, flowcharts, and other tools, Gaddis illustrates how to design the logic of programs.