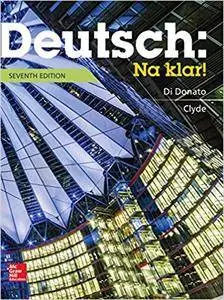 Deutsch: Na klar! An Introductory German Course, 7 edition (Student Edition) by Monica Clyde and Robert Di Donato
English, German | 2015 | ISBN: 0073386359 | 512 pages | PDF | 57 MB
Note: This is a Standalone book. Does not include Access card. Deutsch: Na klar! engages students with its unique integration of authentic materials and targeted listening and speaking activities, contemporary culture and communicative building blocks, providing the tools they need to build a solid foundation in introductory German. Communicative Competence: The program supports the communicative goals of the course by engaging students with authentic materials in print, audio, and video and puts the students into the kinds of situations they would encounter in any German-speaking environment. The program has been carefully designed to get students to communicate in a controlled way at first, then in a progressively more open-ended fashion, on a variety of topics that affect their own lives. In Connect German, students have full access to the digitally enhanced eBook, the online Workbook/Lab Manual activities, LearnSmart, and all of the accompanying audio and video resources, giving them the ability to interact with the materials as often as they wish. Cultural Competence: Deutsch: Na klar! engages students in cross-cultural comparisons and analysis- express opinions, summarize, and synthesize texts, and narrate events- throughout the program. The cultural program's meaningful and extensive exploration of the German-speaking world is fully supported in Connect German through audio and video resources and interactive activities. Mobile Tools for Digital Success: Connect German, McGraw-Hill's digital teaching and learning environment, is now mobile enabled for tablets, allowing students to engage in their course material via the devices they use every day. The digital tools available in the Connect German platform facilitate student progress by providing extensive opportunities to practice and hone their developing skills. These learning opportunities include online communicative activities, instant feedback, peer-editing writing tools, sophisticated reporting, and a complete e-book with embedded audio, video, and grammar tutorials. Connect is the only integrated learning system that empowers students by continuously adapting to deliver precisely what they need, when they need it, and how they need it, so that your class time is more engaging and effective. Connect German, including but not limited to the workbook/lab manual, LearnSmart, the video program, and chat tools, is sold separately and does not come automatically with the purchase of the textbook.