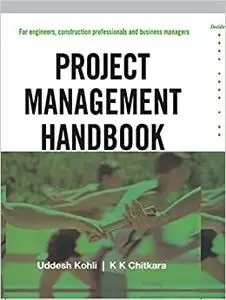 K. K. Chitkara Uddesh Kohli, "Project Management Handbook"
English | 2006 | ISBN: 0070621055 | PDF | pages: 531 | 21.5 mb
Projects need to be completed within a defined scope, time and cost constraints. In addition to these challenges, project management requires general management, technical and interpersonal skills for achieving the project objectives. In order to succeed in this challenging arena, project managers have to be continually on the learning curve.project management handbook aims to help project managers imbibe these skills and deliver. It covers within its ambit project management techniques and practices employed for formulating a project and managing its scope and integration of scope-related parameters. Also organization, time resources, costs, quality, procurement, risks and information system are discussed. Besides this, it includes cases on engineering and construction to enable project managers appreciate the nuances of project management.written by two experts who have over three decades of experience in managing national as well as international projects, this book will serve the needs of:engineering and construction project managers and their team membersmanagers in corporate offices dealing with the management and execution engineering and construction projectsconsultants and specialists like architects, engineers, quality-surveyors and accountantsacademicians, trainers and trainees connected with project management.