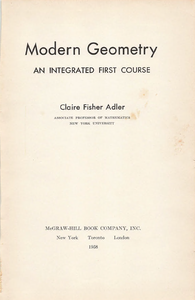 Claire F. Adler, "Modern Geometry: An Integrated First Course"
English | 1958 | ISBN: 0070004218 | 224 pages | PDF | 47.9 MB
Preface: "The present text has been written for a beginning integrated, comprehensive, one-semester course in college geometry and is more suited to the needs of the present-day student than any of the existing texts. It takes into account two important factors: the mathematical background of the student and the time factor involved in his program. Both factors have been ignored far too long, as evidenced by the great number of advanced texts written beyond the grasp of large groups of people. Many students need knowledge of new developments for their future work, while others are eager to learn of the great discoveries that followed Euclid. If these discoveries are to be made more universally known, there must be a first course that bridges the great instructional gap existing between the completely synthetic Euclidean geometry of the secondary curriculum and abstract modern geometry with its emphasis on algebraic analysis. This book attempts to bridge that gap."