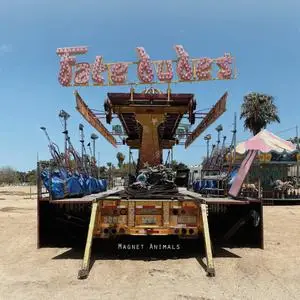 Magnet Animals - Fake Dudes (2021)
FLAC (tracks) 24-bit/48 kHz | Front Cover | Time - 42:28 minutes | 522 MB
Experimental Rock | Label: RareNoiseRecords, Official Digital Download
If ever a moment in history called for the caustic, corrosive rantings of guitarist-composer-poet Todd Clouser and the abstract grooves of his combustible beat-skronk band Magnet Animals, it's this one. With our collective headspaces dizzied by a nearly yearlong pandemic induced isolation and battered by an unceasing barrage of political insanities, the serrated wit and surrealist insights of Fake Dudes arrives with the kinetic force of a madcap sermon.
Fake Dudes reconvenes the geographically scattered members of Magnet Animals – Minneapolis-born, Mexico City-based Clouser, Mexican drummer Jorge Servin, and Abraxas bandmates Eyal Maoz (guitar) and Shanir Ezra Blumenkranz (bass) – four years after their bracing debut, 2016's Butterfly Killer. The startling dreamscape imagery and throttling grooves will be familiar to fans of that initial outing, though Fake Dudes trades its predecessor's occasional airiness for a far more ferocious and claustrophobic concoction.
"Sign of the times, I guess," Clouser shrugs. "I've been fortunate to be able to play a lot of different music and do the things that I love, but the past few years have definitely been a trying time. It's been a challenge just to process everything that's going on in the world. Sometimes those sorts of expressions get pigeonholed as political, but it's much broader than that. Music has always been my avenue to express myself in ways that I can't otherwise, allowing me to explore where we're going and where my place might be in that."
With its titular echo of the disinformation mantra "fake news," Fake Dudes certainly aims some of its vitriol toward the modern era's buffoonish demagogues, but for every biting political reference there's an equally astute and excoriating glimpse inward, as Clouser wrestles with humanity's penchant for self-delusion and reassuring fantasy. Delivered in a distorted haze as if broadcast through a megaphone, Clouser's vocals achieve an abrasive tone perfect for stripping away illusions and heralding a fresh perspective – buoyed by the barbed funk bounce and overdriven rock bludgeoning of the inventive quartet.
"This is kind of an impulsive band and therefore an impulsive collection of music," Clouser explains. "We've really embraced this abstract combination between music and words and also this collection of diverse sounds and personalities. We're not trying to send some grand message or expound a vision as much as share the things we've been going through, and the ideas emerge naturally."
The combination (and, at times, exhilarating collision) of musical personalities is key to the sound of Magnet Animals. While the tunes are Clouser's, he pointedly leaves the material unrefined when he presents it to the band, allowing the others' improvisational instincts to hone or filigree the songs wherever need be. The meeting of minds pulses with wiry electricity throughout Fake Dudes, as if buzzing with some slightly dangerous background frequency beamed in from unknown origins.
The tone is set by opener "Believe," with scything guitar lines over an unremitting beat. Clouser's street preacher spiel sums up the instinctual desire to invest our hopes in fantasies despite the evidence of our own senses. "Don't we want to believe," he implores, "In this impractical dance we are more than chance… the product of ungovernable sense, that the ride is savage but aglow at the end?" That "we" is important, as the lyric is decidedly self-incriminating, ending with the unambiguous declaration, "I want to believe." The "But I can't" is left as an implication.
Propelled by Servin's untethered drum eruptions, "Burn the Whole Thing Down" is a cathartic outburst gauging the nihilist impulse underlying our current public discourse. The title track follows, a fantasia on the elusive nature of truth in a world where every observer brings to bear their own misperceptions and preconceptions. The skittering groove lends a last-hope abandon to the song's blistering, evocative humor.
Following a rave-up intro, the impressionistic "Forecast in Rome" accelerates into a gnarled funk, gilded by the scrapes and cascades of high-tension guitar interjections. The album's sole instrumental track arrives with the mesmerizing, cinematic "Freaks," which conjures the image of Ennio Morricone wandering in a desert caravan. "Hell Is an Empty Place" is an embittered rejoinder to the notion that actions have consequences – a seeming truism proved time and time again to allow for all manner of distressing exceptions.
A welcome dose of optimism peeks through on the evanescent "I'm the One," its empowering message floating on a delirious dub groove. The pummeling "Man and Machine" compresses the quartet's power into sledgehammer riffery suggestive of a power trio lineage tracing an arcane route from the fuzztone force of Cream through the virtuosic psychedelia of Hendrix's Band of Gypsys and on to the post-punk deconstruction of the Minutemen.
The invigorating album ends with two particularly timely calls to arms, with "The Call for the Cure" striving to make sense of a globe plagued (in many more ways than one) by a deadly pandemic, while the pulsing "The Kids Are Gonna Win" finds hope for the future in a motivated new generation. The song was inspired by the bold response by student survivors of school shootings – a sobering notion in light of the fact that Clouser can't even recall which one of these too-frequent tragedies provided the spark.
The distance between the bandmates has always meant that Magnet Animals only comes together on rare occasions, the past year has only complicated things. Clouser hopes that as normality resumes in the coming months (fingers crossed), the four will be able to delve into deeper into this richly exploratory material. "When you put a project together," Clouser concludes, "the hope is always that not only will the music can be good, but that all the members start to really love and support one another. That's definitely happened in this band, despite – or maybe because of – its really unique collection of personalities."
Tracklist:
01. Believe
02. Burn the Whole Thing Down
03. Fake Dudes
04. Forecast in Rome
05. Freaks
06. Hell Is an Empty Place
07. I'm the One
08. Man and Machine
09. The Call For the Cure
10. The Kids Are Gonna Win
foobar2000 1.4.1 / Dynamic Range Meter 1.1.1
log date: 2021-03-24 16:41:30

––––––––––––––––––––––––––––––––––––––––
Analyzed: Magnet Animals / Fake Dudes
––––––––––––––––––––––––––––––––––––––––

DR Peak RMS Duration Track
––––––––––––––––––––––––––––––––––––––––
DR7 -0.59 dB -9.75 dB 4:51 01-Believe
DR6 -0.61 dB -9.97 dB 1:17 02-Burn the Whole Thing Down
DR7 -0.61 dB -8.77 dB 4:34 03-Fake Dudes
DR8 -0.60 dB -10.38 dB 4:15 04-Forecast in Rome
DR10 -0.61 dB -11.91 dB 3:32 05-Freaks
DR8 -0.60 dB -9.11 dB 8:23 06-Hell Is an Empty Place
DR7 -0.61 dB -10.23 dB 4:15 07-I'm the One
DR6 -0.59 dB -8.55 dB 4:32 08-Man and Machine
DR8 -0.59 dB -9.91 dB 1:50 09-The Call For the Cure
DR5 -0.61 dB -7.78 dB 4:59 10-The Kids Are Gonna Win
––––––––––––––––––––––––––––––––––––––––

Number of tracks: 10
Official DR value: DR7

Samplerate: 48000 Hz
Channels: 2
Bits per sample: 24
Bitrate: 1729 kbps
Codec: FLAC
================================================================================


Thanks to the Original customer!