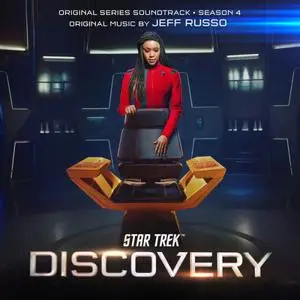 Jeff Russo - Star Trek: Discovery Season 4 (2022) [Official Digital Download]
FLAC (tracks), Lossless [24bit-48kHz] | 1:26:09 | 915 Mb
Genre: Soundtrack / Label: Lakeshore Records
The fourth season of the American television series Star Trek: Discovery follows the crew of the USS Discovery, more than 900 years after the events of Star Trek: The Original Series, as they help rebuild the United Federation of Planets following a cataclysmic event. They soon face an unprecedented space anomaly that causes destruction across the galaxy. The season was produced by CBS Studios in association with Secret Hideout and Roddenberry Entertainment, with Alex Kurtzman and Michelle Paradise serving as showrunners.
Track List:
1.01 - Jeff Russo - Kwejian Destroyed (1:20)
1.02 - Jeff Russo - Angry Butterfly People (4:01)
1.03 - Jeff Russo - Running From Alshain (4:17)
1.04 - Jeff Russo - Reopening The Academy (3:20)
1.05 - Jeff Russo - Gray's New Body (2:36)
1.06 - Jeff Russo - Michael Guides Book (3:12)
1.07 - Jeff Russo - Book Breaks Down (2:27)
1.08 - Jeff Russo - J'Vini Threatens (2:06)
1.09 - Jeff Russo - J'Vini's Story (3:44)
1.10 - Jeff Russo - Saving The Abronians (2:26)
1.11 - Jeff Russo - Kaminar Sea Frogs (1:06)
1.12 - Jeff Russo - Saving Adira (3:46)
1.13 - Jeff Russo - Tarka (0:48)
1.14 - Jeff Russo - Tarka's Theory (2:10)
1.15 - Jeff Russo - Hugh And Kovich (3:11)
1.16 - Jeff Russo - Tarka's Model (2:37)
1.17 - Jeff Russo - Family Tree (2:19)
1.18 - Jeff Russo - Trying To Abort (2:29)
1.19 - Jeff Russo - Just Michael (1:49)
1.20 - Jeff Russo - The Poker Game (2:52)
1.21 - Jeff Russo - Let's End It (2:51)
1.22 - Jeff Russo - Saru Opens Up To T'Rina (1:50)
1.23 - Jeff Russo - Hallucinations (2:13)
1.24 - Jeff Russo - Its The Dust (2:25)
1.25 - Jeff Russo - In The Nursery (4:38)
1.26 - Jeff Russo - The Evacuation (2:39)
1.27 - Jeff Russo - One Way Out (1:38)
1.28 - Jeff Russo - Abandon Ship (1:51)
1.29 - Jeff Russo - DMA Stopped (2:46)
1.30 - Jeff Russo - Book Talks To 10C / Going Home (5:13)
1.31 - Jeff Russo - Wrap Up (4:30)
1.32 - Annabelle Wallis - Zora Sings Stormy Weather (1:13)
foobar2000 1.6.10 / Dynamic Range Meter 1.1.1
log date: 2022-08-26 10:50:13

––––––––––––––––––––––––––––––––––––––––
Analyzed: Annabelle Wallis / Star Trek: Discovery (Season 4) [Original Series Soundtrack] (1)
Jeff Russo / Star Trek: Discovery (Season 4) [Original Series Soundtrack] (2-32)
––––––––––––––––––––––––––––––––––––––––

DR Peak RMS Duration Track
––––––––––––––––––––––––––––––––––––––––
DR10 -6.15 dB -21.73 dB 1:13 32-Zora Sings Stormy Weather
DR8 -0.53 dB -14.15 dB 1:20 01-Kwejian Destroyed
DR10 -0.52 dB -16.14 dB 4:01 02-Angry Butterfly People
DR9 -0.52 dB -13.19 dB 4:17 03-Running From Alshain
DR11 -1.60 dB -17.58 dB 3:20 04-Reopening The Academy
DR11 -0.54 dB -17.82 dB 2:36 05-Gray's New Body
DR11 -0.53 dB -15.86 dB 3:12 06-Michael Guides Book
DR10 -7.23 dB -21.38 dB 2:27 07-Book Breaks Down
DR8 -0.53 dB -13.69 dB 2:06 08-J'Vini Threatens
DR14 -0.54 dB -18.82 dB 3:44 09-J'Vini's Story
DR9 -0.53 dB -14.17 dB 2:26 10-Saving The Abronians
DR10 -7.74 dB -25.53 dB 1:06 11-Kaminar Sea Frogs
DR11 -0.53 dB -15.55 dB 3:46 12-Saving Adira
DR11 -5.01 dB -20.76 dB 0:48 13-Tarka
DR11 -0.10 dB -16.27 dB 2:10 14-Tarka's Theory
DR13 -0.53 dB -19.31 dB 3:11 15-Hugh And Kovich
DR10 -0.54 dB -14.49 dB 2:37 16-Tarka's Model
DR11 -0.54 dB -17.63 dB 2:19 17-Family Tree
DR10 -0.45 dB -14.10 dB 2:29 18-Trying To Abort
DR8 -0.52 dB -12.22 dB 1:49 19-Just Michael
DR10 -0.53 dB -16.63 dB 2:52 20-The Poker Game
DR14 -0.54 dB -20.37 dB 2:51 21-Let's End It
DR11 -2.66 dB -19.36 dB 1:50 22-Saru Opens Up To T'Rina
DR10 -0.53 dB -14.42 dB 2:13 23-Hallucinations
DR12 -0.54 dB -18.55 dB 2:25 24-Its The Dust
DR14 -0.54 dB -21.21 dB 4:38 25-In The Nursery
DR9 -0.53 dB -13.04 dB 2:39 26-The Evacuation
DR10 -0.53 dB -13.35 dB 1:38 27-One Way Out
DR7 -0.53 dB -11.00 dB 1:51 28-Abandon Ship
DR10 -0.53 dB -14.38 dB 2:46 29-DMA Stopped
DR10 -0.53 dB -15.81 dB 5:13 30-Book Talks To 10C / Going Home
DR10 -0.53 dB -15.91 dB 4:30 31-Wrap Up
––––––––––––––––––––––––––––––––––––––––

Number of tracks: 32
Official DR value: DR10

Samplerate: 48000 Hz
Channels: 2
Bits per sample: 24
Bitrate: 1506 kbps
Codec: FLAC
================================================================================