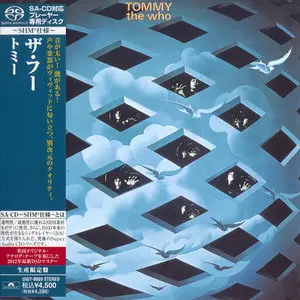 The Who - Tommy (1969) [Japanese Limited SHM-SACD 2012]
PS3 Rip | SACD ISO | DSD64 2.0 > 1-bit/2.8224 MHz | 74:51 minutes | Scans included | 2,2 GB
or FLAC (converted with foobar2000 to tracks) 24bit/96 kHz | Full Scans included | 1,76 GB
Tommy is the fourth album by English rock band The Who, released by Track Records and Polydor Records in the United Kingdom and Decca Records/MCA in the United States. A double album telling a loose story about a "deaf, dumb and blind boy" who becomes the leader of a messianic movement, Tommy was the first musical work to be billed overtly as a rock opera. Released in 1969, the album was mostly composed by Pete Townshend. In 1998 it was inducted into the Grammy Hall of Fame for "historical, artistic and significant value". It has sold over 20 million copies worldwide. This edition uses the 2012 DSD master based on UK original analog tape.
The full-blown rock opera about a deaf, dumb, and blind boy that launched the band to international superstardom, written almost entirely by Townshend. It was hailed as a breakthrough upon its release, but its critical standing has diminished somewhat in the ensuing decades, because of the occasional pretensions of the concept, and the insubstantial nature of some of the songs that functioned as little more than devices to advance the rather sketchy plot. Nonetheless, the double album has many excellent songs, including "I'm Free," "Pinball Wizard," "Sensation," "Christmas," "We're Not Gonna Take It," and the dramatic ten-minute instrumental, "Underture." Though the album was slightly flawed, Townshend's ability to construct a lengthy conceptual narrative brought new possibilities to rock music. Despite the complexity of the project, he and the Who never lost sight of solid pop melodies, harmonies, and forceful instrumentation, imbuing the material with a suitably powerful grace.
Tracklist:
01. Overture
02. It's A Boy
03. 1921
04. Amazing Journey
05. Sparks
06. Eyesight To The Blind (The Hawker)
07. Christmas
08. Cousin Kevin
09. The Acid Queen
10. Underture
11. Do You Think It's Alright?
12. Fiddle About
13. Pinball Wizard
14. There's A Doctor
15. Go To The Mirror!
16. Tommy Can You Hear Me?
17. Smash The Mirror
18. Sensation
19. Miracle Cure
20. Sally Simpson
21. I'm Free
22. Welcome
23. Tommy's Holiday Camp
24. We're Not Gonna Take It
DSD transferred from analogue master tapes by John Astley at The Edge Mastering, 2012.
foobar2000 1.4.4 / Dynamic Range Meter 1.1.1

––––––––––––––––––––––––––––––––––––––––
Analyzed: THE WHO / TOMMY
––––––––––––––––––––––––––––––––––––––––

DR Peak RMS Duration Track
––––––––––––––––––––––––––––––––––––––––
DR11 -4.98 dB -19.21 dB 5:20 01-Overture
DR10 -6.18 dB -19.71 dB 0:39 02-It's A Boy
DR10 -5.17 dB -18.56 dB 2:49 03-1921
DR10 -5.21 dB -18.14 dB 3:24 04-Amazing Journey
DR11 -5.23 dB -18.42 dB 3:45 05-Sparks
DR10 -3.85 dB -16.83 dB 2:13 06-Eyesight To The Blind (The Hawker)
DR10 -3.97 dB -18.05 dB 4:35 07-Christmas
DR10 -5.20 dB -17.90 dB 4:07 08-Cousin Kevin
DR11 -5.56 dB -18.87 dB 3:34 09-The Acid Queen
DR11 -4.28 dB -18.51 dB 10:02 10-Underture
DR7 -6.94 dB -17.40 dB 0:25 11-Do You Think It's Alright?
DR10 -4.37 dB -18.22 dB 1:31 12-Fiddle About
DR10 -4.45 dB -17.69 dB 3:01 13-Pinball Wizard
DR11 -6.36 dB -21.22 dB 0:24 14-There's A Doctor
DR9 -4.26 dB -16.02 dB 3:48 15-Go To The Mirror!
DR11 -5.78 dB -19.05 dB 1:35 16-Tommy Can You Hear Me?
DR10 -4.74 dB -17.03 dB 1:35 17-Smash The Mirror
DR9 -4.58 dB -16.78 dB 2:26 18-Sensation
DR10 -4.85 dB -17.07 dB 0:13 19-Miracle Cure
DR10 -5.80 dB -17.46 dB 4:10 20-Sally Simpson
DR9 -3.49 dB -16.36 dB 2:39 21-I'm Free
DR11 -5.18 dB -20.72 dB 4:32 22-Welcome
DR11 -9.67 dB -23.43 dB 0:57 23-Tommy's Holiday Camp
DR10 -4.92 dB -17.61 dB 7:07 24-We're Not Gonna Take It
––––––––––––––––––––––––––––––––––––––––

Number of tracks: 24
Official DR value: DR10

Samplerate: 2822400 Hz / PCM Samplerate: 176400 Hz
Channels: 2
Bits per sample: 1
Bitrate: 5645 kbps
Codec: DSD64


Thanks to PS³SACD!
Uncompressed SACD ISO size > 3,01 GB
>