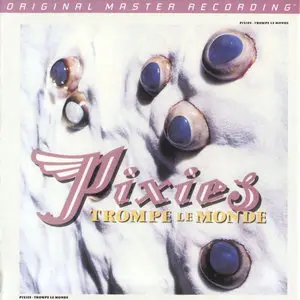 Pixies - Trompe Le Monde (1991) [MFSL 2013]
PS3 Rip | SACD ISO | DSD64 2.0 > 1-bit/2.8224 MHz | 38:57 minutes | Scans included | 1,23 GB
or FLAC (converted with foobar2000 to tracks) 24bit/96 kHz | Full Scans included | 949 MB
Mobile Fidelity Sound Lab # UDSACD 2066
Trompe le Monde is the fourth studio album by the American alternative rock band Pixies. After the surf-pop of Bossanova, the band returned to the abrasive sound of the band's earlier releases. Recorded in Burbank, California, Paris and London, the album was produced by Gil Norton, and was Pixies' final studio album before their subsequent break-up two years later. Trompe le Monde is the last album to feature founding bass guitarist Kim Deal.
The title might be French for "fool the world," but with Trompe le Monde, the Pixies weren't fooling anyone: this was essentially Black Francis' solo debut. It focuses on Francis' sci-fi fascination and lacks any Kim Deal songs; even her backing vocals are far and few between. Yet the band sounds revitalized on Trompe le Monde, as if it were planned as their last hurrah. The raucous "Distance Equals Rate Times Time" and the explosive cover of the Jesus and Mary Chain's "Head On" are fairly straightforward, but the lyrics remain quirky on "Planet of Sound," a song about a Martian who lands on Earth, and "Palace of the Brine," a tribute to sea monkeys and Utah's Salt Lake. He even disses hipsters and pretentious students – basically, the Pixies' fan base – with nasty little digs like "Subbacultcha"'s "I was wearing eyeliner/She was wearing eyeliner" and "U-Mass"' "It's eduuucaaationaal!" Musically, "Trompe le Monde"'s psychedelic sheen and "Alec Eiffel"'s atmospheric keyboards prove that the Pixies' sound wasn't defined by Steve Albini-style rawness. There's also more emotional depth: "The Sad Punk" features the strangely poignant bridge "And evolving from the sea/Would not be too much time for me/To walk beside you in the sun," and "Letter to Memphis" is a heartfelt, if cryptic, love song. Though Trompe le Monde doesn't sound quite like the Pixies' other work, Come on Pilgrim's spooky beginnings, Surfer Rosa's abrasive assault, Doolittle's deceptively accessible punk-pop, and Bossanova's spacy sonics helped make Trompe le Monde a rousing swan song and a precursor to alternative rock's imminent success. Whether that means their music remained pure or they missed their chance to cash in is debatable; either way, the Pixies are one of America's greatest, most influential bands.
Tracklist:
01. Trompe Le Monde
02. Planet Of Sound
03. Alec Eiffel
04. The Sad Punk
05. Head On
06. U-Mass
07. Palace Of The Brine
08. Letter To Memphis
09. Bird Dream Of The Olympus Mons
10. Space (I Believe In)
11. Subbacultcha
12. Distance Equals Rate Times Time
13. Lovely Day
14. Motorway To Roswell
15. The Navajo Know
Mastered by Rob LoVerde at Mobile Fidelity Sound Lab, Sebastopol, CA.
foobar2000 1.5.2 / Dynamic Range Meter 1.1.1

––––––––––––––––––––––––––––––––––––––––
Analyzed: Trompe Le Monde / Pixies
––––––––––––––––––––––––––––––––––––––––

DR Peak RMS Duration Track
––––––––––––––––––––––––––––––––––––––––
DR12 -7.15 dB -20.86 dB 1:46 01-Trompe Le Monde
DR11 -7.06 dB -20.12 dB 2:06 02-Planet Of Sound
DR11 -7.15 dB -20.15 dB 2:50 03-Alec Eiffel
DR12 -6.37 dB -20.50 dB 3:00 04-The Sad Punk
DR11 -6.80 dB -19.74 dB 2:14 05-Head On
DR12 -7.05 dB -20.77 dB 3:01 06-U-Mass
DR12 -6.61 dB -19.34 dB 1:34 07-Palace Of The Brine
DR11 -7.17 dB -20.42 dB 2:40 08-Letter To Memphis
DR12 -6.96 dB -20.55 dB 2:48 09-Bird Dream Of The Olympus Mons
DR12 -6.63 dB -20.47 dB 4:18 10-Space (I Believe In)
DR13 -6.46 dB -21.26 dB 2:10 11-Subbacultcha
DR11 -7.23 dB -19.60 dB 1:24 12-Distance Equals Rate Times Time
DR12 -6.70 dB -19.57 dB 2:05 13-Lovely Day
DR12 -6.57 dB -21.45 dB 4:43 14-Motorway To Roswell
DR12 -6.70 dB -20.87 dB 2:20 15-The Navajo Know
––––––––––––––––––––––––––––––––––––––––

Number of tracks: 15
Official DR value: DR12

Samplerate: 2822400 Hz / PCM Samplerate: 176400 Hz
Channels: 2
Bits per sample: 1
Bitrate: 5645 kbps
Codec: DSD64


Thanks to PS³SACD!
Uncompressed SACD ISO size > 1,56 GB
>