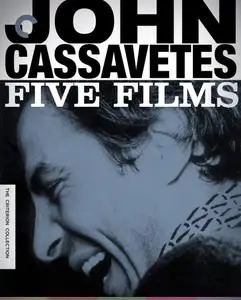 John Cassavetes: Five Films (1959-2000) [Criterion Collection, Spine #250]
DVD Video, 8 x DVD9 | ~ 838 minutes | NTSC 4:3 | 720x480 | ~ 57.6 Gb
English: Dolby AC3, 2 ch | Subtitles: English
Genre: Drama, Crime, Documentary, Biography | Director: John Cassavetes
John Cassavetes was a genius, a visionary, and the progenitor of American independent film, but that doesn't begin to get at the generosity of his art. A former theater actor fascinated by the power of improvisation, Cassavetes brought his search for truth in performance to the screen. The five films in this collection—all of which the director maintained total control over by financing them himself and making them outside the studio system—are electrifying and compassionate creations, populated by all manner of humanity: beatniks, hippies, businessmen, actors, housewives, strippers, club owners, gangsters, children. Cassavetes has often been called an actor's director, but this body of work—even greater than the sum of its extraordinary parts—shows him to be an audience's director.