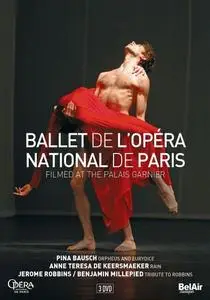 Ballet De L'Opèra National De Paris. Hommage à Jerome Robbins (2008)
DVD Video | NTSC 16:9 | 720x576 | 1hr 50mn | 7.00 Gb
DVDRip | MKV | AVC 720x480, ~ 1.7 Mbps | 1hr 50mn | 2.01 GB
English: AC3, 2 ch, 448 kbps \ AC3, 6 ch, 448 kbps | Subtitles: None
Genre: Music, Ballet
The Paris Opera Ballet, known for its historic attachment to the classical ballet and recognized for its inimitable interpretations of the great repertoire, has been able to defend its place among the most versatile companies in the world, and prove that he was perfectly capable of adapting to the demands and subtleties of the contemporary repertoire. A tribute to the remarkable technique and the particular style of its dancers, this collector's box looks back at three major events of recent years: Orphée et Eurydice by Pina Bausch, Rain by Anne Teresa de Keersmaeker, and a "Hommage à Jerome Robbins" , ten years after his disappearance. These three programs were given at the Palais Garnier, temple of classical dance: a way of ensuring continuity between the masterpieces of yesterday and the masterpieces of today.