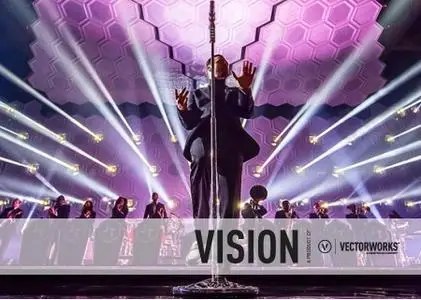 VectorWorks Vision 2021 macOS | 1.2 Gb
Vectorworks launches new Vectorworks Vision 2021 software is designed to work with Vectorworks Spotlight software, although Vision can also be used as a stand-alone product.
The bellow contains a list of new and improved features for the initial release of the Vision 2021 software.
Disguise EVO integration
Vision supports integration with Disguise EVO, to enable lighting visualization and media programming for .mvr files
New DMX-controlled cameras
New cameras are available in the DMX Controls dialog box; these allow a lighting console or other integrated program to control the viewport view with DMX.
- The pre-existing cameras were renamed as Relative cameras.
- A new Absolute camera uses DMX to set the camera position and control the FOV.
- A new Disguise camera enables integration with the Disguise EVO program.
Performance improvements
The physics and rendering engines have been reworked for significant performance improvements
Patching improvements
In addition to patching fixtures, the Patch dialog box now supports the patching of RGB mesh objects; DMX transforms; and DMX-controlled cameras, ambient intensities, and haze speeds
Finer control of shadows
A new document preference, Cast Shadows, controls shadow behavior for individual objects and layers
Higher quality metal materials
Shiny materials now appear more realistic due to the following updates:
- Ambient lighting creates specular highlights.
- Objects reflect the environment when a panoramic background or background color is applied.
New icons
New icons for tools and the DMX Recorder give the Vision interface a modern look
Texture transparency options
Now you can use the alpha channel from the primary texture as the rendering mask, or use an alpha texture
Finer control of the bump effect on textures
Now you have finer control of Bump Strength, to control the intensity of surface contours for all textures
Simplified Properties palette for a multiple selection
For a multiple selection of scene items, the Properties palette has been condensed for easier navigation. Now it shows only one set of parameter values for all selected items. Heterogeneous values are clearly indicated by two asterisks.
Better palette navigation
Now you can expand or collapse all "child" items on the Scene Graph palette and Properties palette
Welcome to Vision 2021 pre-visualization software
for entertainment design and production professionals. Vision allows you to previz the conventional lights, moving lights, video, and other effects that make up a production, simulated in the context of the event venue. Use Vision to program and cue your show, whether you are selling a concept to the client, testing lighting cues, or conforming lighting systems for a new venue. You can previz without being at the venue or having a crew on standby. Experiment with looks and cues, and review the options with clients and artists before the actual load-in.
In this chapter, we are going to discuss what Vision is, and how it can be used to save time and money.
Vectorworks, Inc.
is an award-winning design and BIM software provider serving the architecture, landscape architecture and entertainment industries in 85 countries. Creating intuitive software since 1985, we've become the preeminent software built to manage the entire design process. Globally more than 685,000 users are creating, connecting and influencing the next generation of design with Vectorworks on Mac and Windows. Headquartered in Columbia, Maryland, with offices in Newbury and London, England and Vancouver, Canada, Vectorworks is a part of the Nemetschek Group.
Product:
VectorWorks Vision
Version:
2021 (567007)
Supported Architectures:
x64
Website Home Page :
www.vectorworks.net
Language:
english
System Requirements:
macOS *
Size:
1.2 Gb
Vectorworks 2021 Product System Requirements

The following are real-world system requirements for running Vectorworks 2021. In some demanding cases, we would suggest a more capable machine than is described in these hardware profiles. Likewise, there are some less demanding situations where Vectorworks will perform well on older hardware.

Operating Systems
macOS 10.15 (Catalina)
macOS 10.14 (Mojave)
macOS 10.13 (High Sierra)
macOS 10.12 (Sierra)

Minimum Hardware Profile

Entry-level Profile:
For small projects, simple models/drawings with a low level of detail, simple renderings (such as, small residential projects, small theaters, small landscaping design)

Processor: Intel Core i5 or AMD Ryzen 5, or better
RAM: 8GB or more
Graphics Card: OpenGL 2.1 compatible graphics card with 2GB of VRAM or more

Some integrated graphics cards such as Intel Iris graphics are acceptable for simple models/drawings, but a dedicated graphics card is preferable.

Vision requires a dedicated OpenGL 4.1 compatible graphics card with 2GB of VRAM or more, preferably released in the past three years (e.g. NVIDIA GeForce RTX 2060 series, AMD Radeon RX 500 series).

Using multiple view panes with different visibilities in all panes requires a graphics card with at least 2GB of VRAM.

Display Resolution: 1440 x 900 or higher
Hard Disk: 10GB free disk space is required for the installation. 30GB or more is required for a full installation with all libraries.

Case sensitive file system volumes are not supported.
Please visit my blog
Added by 3% of the overall size of the archive of information for the restoration

No mirrors please