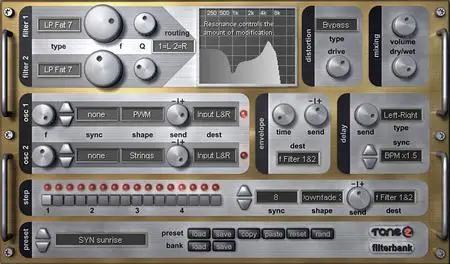 Tone2 FilterBank3 v3.4.0 WiN | 3 Mb
Tone2 FilterBank is more than an analog modeled filter plugin: It is a synthesizer AND a flexible multi-effect unit. The modular design and flexible modulation routing give you almost unlimited possibilities. With a massive amount of filters, oscillators and feedback you can create complete sequences and textures.
58 different high-end quality dual-stereo filters
High sound quality
Flexible, semi - modular architecture and routing
Virtual-analog OSCs/LFOs
FM, AM, feedback
20 Delay types, Reverb, 12 Distortion types
320 presets included
Can be loaded as a synthesizer as well as an effect
Vocal filtering, equalizing, phasing, flanging, compressing, envelope following
The built-in step sequencer can create rhythmic sequences
Syncable to BPM
Realtime frequency-display
Easy to use
Live usage
All parameters can be tweaked in real-time. If you are using a mouse, the plugin smooths your movements automatically - without clicks or glitches. FilterBank3 is never out-of-beat because it automatically synchronizes delay times, LFO's and the step sequencer to your host's BPM rate.
User friendly interface
It displays your results in real-time. This makes it easy to understand what you are currently tweaking. Additionally, the user interface offers tool tips and help.
Filters
Two fully independent stereo filters offer the highest sound quality. Tone2 is currently the only company offering such a large and excellent repertoire of filters. The self-resonating Moog cascade filter simulates circuit overloads of analogue synthesizers. FilterBank3 comes with 58 different sounding filter types:
Moog, Low-pass (6-40dB), High-pass (6-40dB), Band-pass, Notch, All-pass, Resonator, Formant, M-shape, Octaved, , Vocal, Phaser, Comb, EQ, FM, AM, Resample, Elliptic, …
HAPPY NEW YEAR!!!

* Completely unpacked from MPRESS2. Loads faster and uses less memory.
* Works without keyfile. Not detectable by their current protection.
* Homecalling and hosts file scan is bypassed.
* Does not scan or remove other blacklisted.
* Includes custom wrapper and solves file access issue.