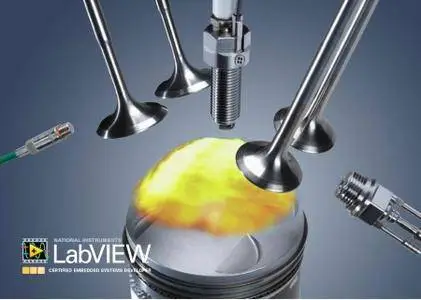 NI Combustion Analysis System (CAS) Software for LabVIEW 2017 | 2.3 Gb
National Instruments (NI), the provider of solutions that enable engineers and scientists to solve the world's greatest engineering challenges, announced the Combustion Analysis System 2017, is a unique LabVIEW-based VI tool enabling users to integrate sophisticated combustion analysis and logging with engine control applications.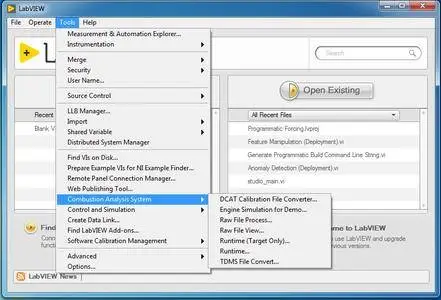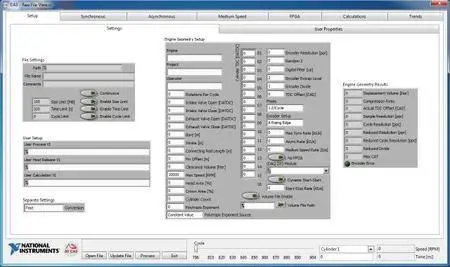 About NI Combustion Analysis System (CAS) Software.
National Instruments Combustion Analysis System (NI-CAS) software is a unique LabVIEW plug-in for performing sophisticated in-cylinder combustion analysis and logging for engine R&D targeted to a wide variety of NI hardware. You can choose from two versions of the software: development and deployment. The first can be used to develop sophisticated PXI-based combustion analysis applications with real-time feedback control capabilities, and the second can be deployed to portable, low-cost NI CompactDAQ hardware.
With NI-CAS software, you can stream raw data to file continuously or by cycle count, time, or file size. Raw data files are stored in NI's popular Technical Data Management Streaming (TDMS) format and include all channel configurations, engine geometry, and custom test data to allow complete reconstruction of the test environment at a later date. Cycle-by-cycle summaries of analysis parameters can also be logged to TDMS files for later review. TDMS is an open file format that you can use to post-process files with a variety of tools, including the NI-CAS software post-processing tools or Microsoft Excel. NI-CASS acts as an ASAP3 slave and can talk to ASAP3 masters such as AVL Puma.
The Development License of NI-CAS software features a LabVIEW toolkit for integrating sophisticated combustion analysis and logging with engine control applications. The toolkit provides several analysis functions, front panel controls, and utilities including data streaming to disk, pre-processing, heat release, pressure metrics, knock analysis, noise analysis, raw data logging, summary data reporting, and post-processing. The Deployment License enables deployment to low-cost, easy-to-use, portable engine combustion analysis hardware bundles. NI-CAS Software for Deployment is a prebuilt LabVIEW executable for Microsoft Windows that targets stand-alone NI CompactDAQ chassis or NI CompactDAQ hardware over USB and Ethernet.
NI-CAS Software supports three timebases: high-speed engine synchronous, high-speed angular-window time domain, and medium-speed time domain. The Deployment License features all of the analysis functions included in the NI-CAS Software for Development except for next-cycle control and FPGA-based engine position tracking (EPT) functions. Engine-synchronous data sampling must take place using optical shaft encoders mounted to the crankshaft.
About NI LabView 2017.
LabVIEW is systems engineering software for applications that require test, measurement, and control with rapid access to hardware and data insights.
LabVIEW offers a graphical programming approach that helps you visualize every aspect of your application, including hardware configuration, measurement data, and debugging. This visualization makes it simple to integrate measurement hardware from any vendor, represent complex logic on the diagram, develop data analysis algorithms, and design custom engineering user interfaces.
LabVIEW 2017 simplifies the design of distributed test, measurement, and control systems decreasing your time to market. Combine LabVIEW 2017 with proven, off-the-shelf customizable hardware from NI which has been used by engineers for over 30 years to develop and deploy custom large-scale industrial and production systems.
About About National Instruments.
Since 1976, National Instruments has equipped engineers and scientists with tools that accelerate productivity, innovation and discovery. NI's graphical system design approach to engineering provides an integrated software and hardware platform that speeds the development of any system needing measurement and control. The company's long-term vision and focus on improving society through its technology supports the success of its customers, employees, suppliers and shareholders.
Product:
NI Combustion Analysis System (CAS) Software
Version:
2017
Supported Architectures: Website Home Page :
www.ni.com
Language:
english
System Requirements:
PC
Supported Operating Systems:
Windows 7even / 8
Recommended System:
*
Size:
2.3 Gb
*
- NI LabVIEW Professional Development System
- NI LabVIEW Real-Time Module
- NI LabVIEW FPGA Module
- LabVIEW Runtime Engine
- NI-DAQmx
- NI-RIO
- NI LabVIEW FPGA Module Xilinx Tools
- NI Software Calibration Management Toolkit for LabVIEW
Combustion Analysis System Software User Manual
National Instruments LabView 2017
Please visit my blog
Added by 3% of the overall size of the archive of information for the restoration

No mirrors please