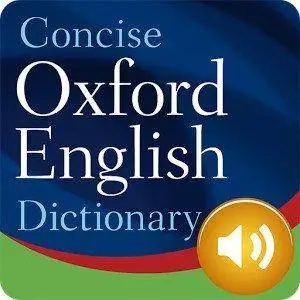 Concise Oxford English Dictionary v9.0.269 [Premium] | Android | 11.87 MB
The Concise Oxford English Dictionary is the most popular dictionary of its kind and is noted for its clear, concise definitions as well as its comprehensive and authoritative coverage of the vocabulary of the English-speaking world.
Available in both British & American voice versions, this dictionary consists of over 50,000 audio pronunciations of both common and rare words, including words with controversial pronunciation or with variant pronunciations.
The Most Popular Dictionary Worldwide:
- Over 240,000 words, phrases, and definitions, covering technical and scientific vocabulary as well as English from around the world
- Hundreds of new words and phrases, based on the latest research from the Oxford English Corpus
- Hundreds of usage notes on tricky vocabulary and grammar usage
- 50,000 audio pronunciations
More than 100 years after its first publication, the 12th edition of this world-famous bestseller gives the most up-to-date picture of the English language today. The original 1911 edition, revolutionary at the time for its focus on current English and its use of illustrative examples, combined a succinct yet approachable style with coverage of everyday as well as specialist terms. This centenary edition continues this ground-breaking tradition, giving you rich authoritative coverage of English as it is used today.
Search tools - effortlessly find words thanks to a clear, functional, and easy-to-use interface.
Intelligent search integrates several tools to match or suggest what you are looking for:
- Search autocomplete helps find words quickly by displaying predictions as you type
- Keyword lookup allows you to search within compound words and phrases
- An automatic 'Fuzzy filter' to correct word spelling, as well as 'Wild card' ('*' or '?') to replace a letter or entire parts of a word
- Camera search looks up words in the camera viewfinder and displays results
- Share word definitions via installed apps on your device
Learning tools - engaging features that help you further enhance your vocabulary.
- 'Favorites' feature to create custom folders with lists of words from the extensive library
- 'Recent' list to easily review looked-up words
- 'Word of the day' section to expand your vocabulary daily
- Home screen widget provides random words at a glance
- NEW: Split screen support for Android 7 allowing you to use dictionary together with other apps
What's new:
9.0.269:
- Translate words from any Android app with the Tap to Translate feature
- Customize your dictionary with any of the four new colorful Themes
- Bug fixes and Improvements
Home Page -
https://play.google.com/store/apps/details?id=com.mobisystems.msdict.embedded.wireless.oxford.conciseenglish