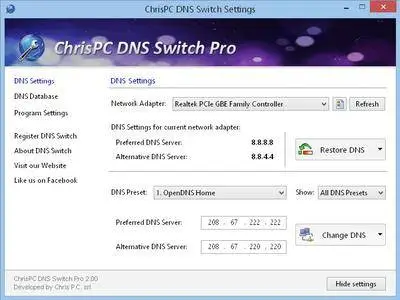 ChrisPC DNS Switch Pro 3.50 | 1.4 MB
Did you wonder how your computer and browser connects to a specific server on the Internet only by giving it a human readable address, like Google? There is an important link in the chain of connectivity between your computer/table/laptop/smartphone and servers on the net which is called DNS. By default the IP address of the DNS server used by your connection is set most of the time automatically by your computer, which queries this data directly from your Internet provider. DNS Switch Pro continues the series of connectivity tools that are useful for a safe and anonymous Internet browsing. This tool makes DNS change more easy and faster giving you a series of options like choosing from preset groups of DNS servers the one that fits your browsing habits.
ChrisPC DNS Switch has many key features like:
Change your computer DNS with just 1 click.
Set your favorite DNS or select one from the software's DNS Database.
The DNS Database contains presets grouped by type: Regular DNS, Secure DNS, Family Safe DNS, Anonymous DNS and Custom DNS.
DNS Benchmark lets you find the fastest DNS with one click.
Protect your online experience by using a Secure DNS server that filters out websites that are potentially threats to your PC (avoiding viruses, malware, trojans etc.)
Block adult websites or those that encourage violence, drugs and/or indecent behavior by selecting a Family Safe DNS.
Import DNS server lists from text file.
Improve your privacy while you surf the internet by using an Anonymous DNS.
Gain access to websites that are blocked or restricted in your country/area using a Regular or Anonymous DNS.
Saves your initial DNS settings so you can safely restore them back at any time.
Easy add and edit your own DNS address in the Custom DNS preset list.
Fast Switch your DNS from systray popup menu.
Multi language interface: English, Romanian.
Launch software on Windows boot.
Minimize ChrisPC DNS Switch to systray.
OS :
Windows 10, Windows 8, Windows 7, Vista, XP.
Language
: English
Home Page
-
https://www.chris-pc.com